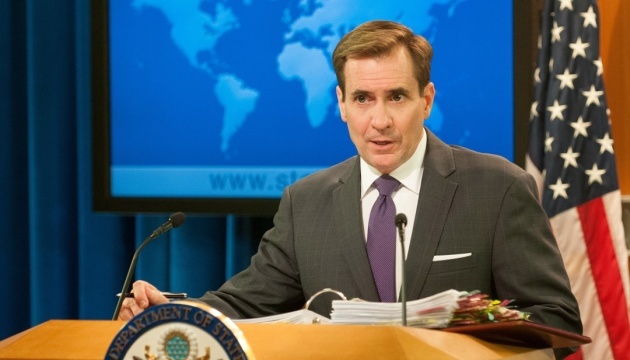 U.S. against calls for ceasefire in Ukraine, as it will give Russians time to rest - Kirby
Washington supports efforts by any nation to establish peace in Ukraine, but is against calls for an immediate ceasefire, as this would consolidate Putin's control over the occupied territories.
National Security Council Coordinator for Strategic Communications John Kirby said this at a virtual briefing on Friday, according to an Ukrinform correspondent.
"We will support efforts by any nation if they can help find a way to a just and lasting peace consistent with the principles of the UN Charter. But what we cannot support and what we will not support are calls for a ceasefire that will simply just freeze the current lines in place, that will legitimize Russia's land grab, and that will enable Putin to consolidate control over the territory that he's already seized," Kirby said.
He explained that if such a "ceasefire" were implemented, this would give the aggressor the time and space to rest, rearm, and potentially reattack. According to him, that would send the wrong message not only to the Kremlin, but also to would-be aggressors around the world.
Kirby also said that Russia had not yet shown any signs of readiness to engage in diplomacy and work towards a just peace in Ukraine. Therefore, the United States will continue to support the peaceful efforts of the Ukrainian side, Kirby said.
U.S. Secretary of State Antony Blinken in his speech in Helsinki on Friday called Russia's war of aggression against Ukraine "a strategic failure."