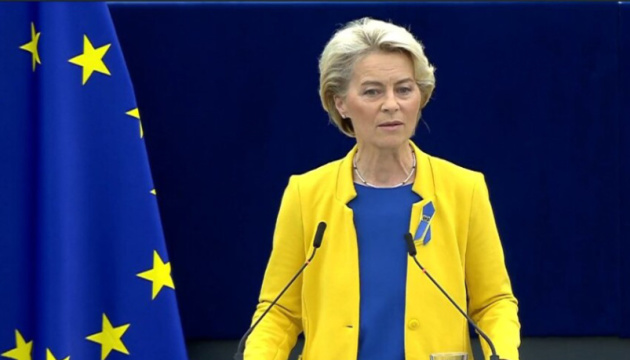 Ceasefire in Ukraine cannot bring peace without withdrawal of Russian troops - von der Leyen
Any proposals to start negotiations to end Russia's war against Ukraine must take into account the need for the complete withdrawal of Russian troops from Ukraine.
European Commission President Ursula von der Leyen said this in her speech at the GLOBSEC 2023 Bratislava Forum, according to an Ukrinform correspondent.
"There is much discussion of peace plans and ceasefires. Above all, there must be the principle: nothing about Ukraine without Ukraine. Together with Ukraine, we want a just peace, one that does not reward the aggressor, but one that upholds the principles of the UN Charter and the Ukrainian people's right to be masters of their own future," she said.
Von der Leyen said that Ukrainian President Volodymyr Zelensky was very clear on that. "A ceasefire resulting in a frozen conflict will not bring lasting peace. After all, a ceasefire was in place after 2014 and we know what happened to that agreement last February when Russia invaded. A ceasefire would be inherently unstable and would destabilize the region along the contact line. Nobody would invest or rebuild, and the conflict could flare up again at any time. No, a just peace must result in the withdrawal of Russian forces and their equipment from the territory of Ukraine," she said.
Since Russia's all-out invasion of Ukraine began in February 2022, the European Union and its member states have provided substantial political, economic, financial, humanitarian and military assistance to Ukraine, including weapons and ammunition for the exercise of Ukraine's right to self-defense, which is enshrined in the UN Charter.