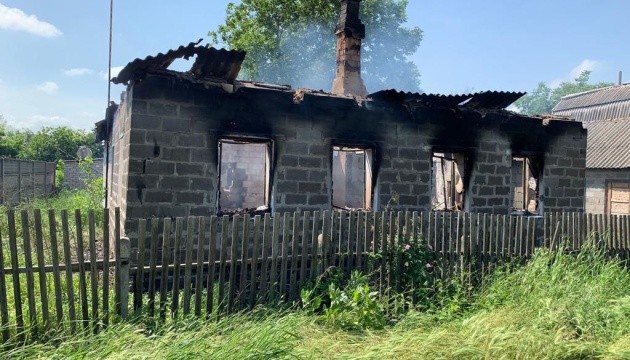 Russian army attacks 10 regions of Ukraine in 24 hours
The Russian army attacked ten regions of Ukraine over the past day.
That's according to a summary of Regional Military Administrations' information on the situation in Ukraine's regions as of 9:00 a.m. on Tuesday, May 30, Ukrinform reports.
At night, the enemy attacked Kyiv region with drones. No hits were recorded. Several high-rise buildings were damaged by falling debris. A fire broke out in one of them. Two people were hospitalized. Information about the consequences and the victims is being clarified.
The fall of debris in several districts of Kyiv caused destruction and damage to residential buildings and cars. The data is being clarified.
In Chernihiv region, the Russian army shelled Novhorod-Siverskyi district twice with mortars over the past 24 hours. A fire broke out in a non-residential building.
In Sumy region, the enemy made seven attacks at night and in the morning, 32 explosions were heard. Bilopillia, Esman, Velyka Pysarivka, Znob-Novhorodske, Krasnopillia, Seredyna-Buda, Yunakivka communities were shelled.
Yesterday, the Russian army fired ten times during the day in Sumy region, 48 explosions were recorded. Velyka Pysarivka, Esma, Shalyhyne, Krasnopillia, Bilopillia communities were shelled.
In the Esman community, a warehouse of an agricultural enterprise was damaged as a result of shelling.
The enemy launched 65 attacks on 14 towns and villages in Zaporizhzhia region. Air strikes were carried out on Huliaipole and Mala Tokmachkaa, UAVs attacked Novoandriivka, Charivne, Olhivske, Kamianske, Russian troops attacked Novodanylivka and Yehorivka three times with MLRS, the enemy carried out 55 artillery strikes on Zaliznychne, Huliaipole, Malynivka, Bilohiria and other frontline villages.
There were 12 reports of destruction.
In Dnipropetrovsk region, yesterday the invaders shelled Synelnykove district, hit Pokrovske community with "Smerch" and "Tornado-S". A woman born in 1972 was killed, and ten people were wounded, including a child born in 2011. Several private houses were destroyed, and over 30 were damaged. Cars were destroyed and damaged, two minibuses and a school bus were damaged, and three communal facilities, a shop, a gas station and a cafe were damaged.
The enemy fired at Marhanets community in Nikopol district with cannon artillery.
At night, defenders from the "East" Air Command shot down a drone over the Dnipropetrovsk region.
In the Kharkiv region, Russians used rocket launchers, artillery, mortars and aircraft to massively shell settlements in Kharkiv, Kupiansk, Chuhuiv and Izium districts.
As a result of a rocket attack on the village of Kivsharivka in Kupiansk district, three elderly women, a man aged 64 and a 14-year-old teenager were hospitalized with injuries. A pregnant woman and a 10-year-old child were treated on the spot. A dormitory, two private houses and a gas pipeline were damaged in the village.
In the village of Hlushkivka, Kupiansk district, the shelling damaged five private houses, outbuildings and a power line. A 60-year-old woman was wounded.
A 66-year-old woman was wounded as a result of artillery shelling of Hlyboke village in Kupiansk district.
Residential buildings and outbuildings were damaged in the village of Bohuslavka, Izium district.
The shelling of Vovchansk, Chuhuiv district, damaged a grain elevator, a granary and other civilian facilities. Residential buildings were destroyed and fires broke out. A woman aged 36 was wounded.
Yesterday, the enemy tried to launch an offensive in the area of Masiutivka and Krokhmalne, but retreated with losses.
In the Luhansk region, Russians conducted offensive actions near Stelmakhivka and Novoselivske.
The enemy carried out air strikes on Stelmakhivka and Bilohorivka.
On the last day, the Russian army fired 111 times at Luhansk region, launching 497 shells.
Russians fired 24 times at Donetsk region. Kurakhove, Avdiivka, Kostiantynivka, Toretsk, Siversk, Chasiv Yar, Velyka Novosilka, Zvanivka and Maksymivka were under fire.
Nine residential buildings (including three apartment buildings), five cars, a Ukrzaliznytsia car depot, a gas pipeline, a shop, a power line, an electric pole, a gas station, a school, the premises of Oschadbank, Ukrenergobud and Ukrtelecom, a building of the State Emergency Service, and a garage were damaged.
Two people were killed and ten injured in Donetsk region over the last day.
Yesterday, air defense forces destroyed an enemy UAV in Mykolaiv region. Also, two Shahed-131/136 attack UAVs were shot down at night.
On Monday, Russian troops shelled Ochakiv, partially destroying and damaging residential buildings, outbuildings, and a power line.
In the evening, shelling of the Ochakiv community water area was also recorded.
In Kherson region, the invaders made 52 attacks (fired 343 shells) over the day, including ten attacks (50 shells) on Kherson, hitting 19 settlements.
A 61-year-old man was killed in his own home during the shelling of Kozatske village of Nova Kakhovka community.
100 people were evacuated from the territory liberated from the Russian army.
Photo: Pavlo Kyrylenko/Telegram