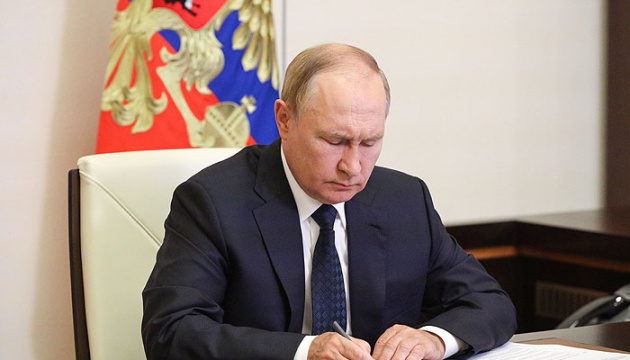 Putin legalises 'elections', deportation on occupied territory of Ukraine
Russian President Vladimir Putin has signed amendments to the law "On martial law". They allow holding elections on the temporarily occupied territories of Ukraine and deporting people from there.
This was reported by Ukrinform citing the official portal of legal information of the Russian Federation.
The possibility of "forced and controlled movement of citizens from the territory where martial law has been imposed to the territory where martial law has not been imposed" is now legalised. It is also allowed to hold referendums and elections to the so-called "state authorities" and "local self-government bodies" in the occupied territories, if the Central Election Committee of the Russian Federation decides so. This can be done both in the entire occupied territory and in some part of it.
In April, Putin signed a decree that provided a possibility of "deportation" of Ukrainians from the temporarily occupied territories of Ukraine on other grounds. According to the decree, Ukrainians who live in the occupied territories and choose to retain Ukrainian citizenship have the right to stay there until 1 July 2024. After that, they may be deported.
The Russian President's decree on the introduction of martial law in the occupied territories of the Donetsk, Luhansk, Zaporizhzhia and Kherson regions was signed on 19 October and came into effect at midnight on 20 October.