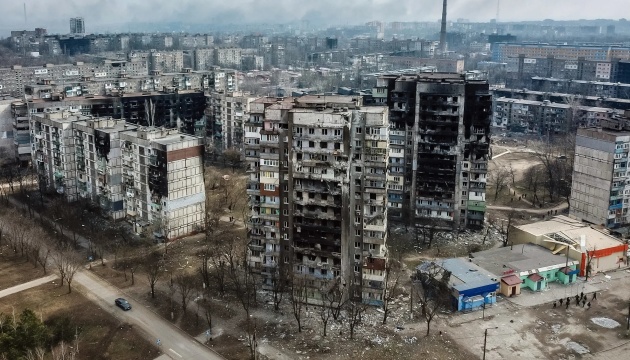 Over 1,300 houses destroyed, demolished by Russian invaders in Mariupol
Russian invaders have already destroyed over 1,300 houses in the Donetsk region's Mariupol, and continue demolishing those buildings that were damaged in Russia's shelling of the city.
The relevant statement was made by Mariupol City Council on Telegram, an Ukrinform correspondent reports.
"Russians killed tens of thousands of civilians, destroyed over 1,300 houses, and continue to ruin those that had been damaged by their attacks. They turned Mariupol from the city of development and opportunities, as it was under the Ukrainian flag, into the city of shot hopes, ruins and survival," the report states.
Mariupol City Council posted a few videos, showing the houses ruined and smashed by Russian bombs and artillery shells on different streets of the city.
"Different districts of occupied Mariupol. They have one thing in common: houses and neighborhoods destroyed by the Russians," the note to the videos reads.
According to Mariupol City Council, each Mariupol resident believes and is waiting for Ukraine's victory and the liberation of their native city from the 'Russian world'.
A reminder that Russian armed aggression caused one of the worst humanitarian catastrophes in the Donetsk region's Mariupol. About 90% of the city is lying in ruins. Russian invaders continue demolishing the buildings damaged by them to hide the traces of their crimes.