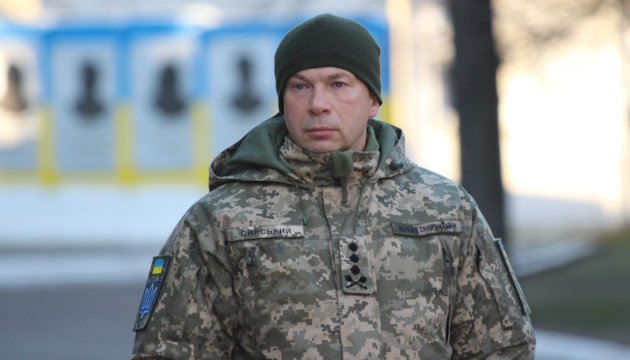 Ukrainian forces conducting offensive actions on flanks around Bakhmut - Syrskyi
Commander of the Ground Forces of the Armed Forces of Ukraine, Colonel General Oleksandr Syrskyi has visited the advanced positions near Bakhmut.
"I visited our warriors and commanders on the front line. Thanked and honored the soldiers of the 3rd separate assault brigade, the 30th separate mechanized brigade, the 56th separate motorized infantry brigade, the 93rd separate mechanized brigade that eliminate the enemy every day. The Defense Forces have continued offensive operations on the flanks around Bakhmut. Although we now control the outskirts of the city, the defense is still important. In the future, this will give us the opportunity to enter the city when the operational situation at the front changes," Syrskyi wrote on Telegram, adding that he discussed with the commanders further actions of the Defense Forces.
According to the commander, the defensive operation near Bakhmut is ongoing.
As reported by Ukrinform, Commander Oleksandr Syrskyi have stated today that Ukrainian warriors are advancing on the flanks in the suburbs of Bakhmut and are close to tactically encircling the city.
Photo: 93rd separate mechanized brigade Kholodnyi Yar