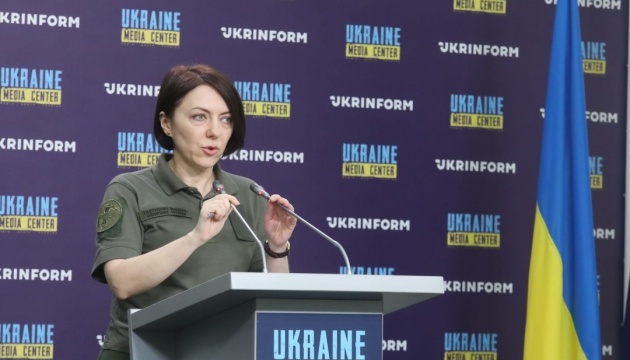 Russia's fake reports claiming Ukraine CinC's "disappearance" come amid tension climax in Bakhmut
The launch by the Russians of a fake report claiming the alleged disappearance of the Commander-in-Chief of Ukraine's Armed Forces, Valeriy Zaluzhnyi, can be explained by the peak of battlefield tension in and around Bakhmut.
That's according to Ukraine's Deputy Defense Minister Hanna Maliar, who commented on the issue via Telegram, Ukrinform reports.
"The Russians have launched an information wave claiming the alleged disappearance of our Commander-in-Chief Valeriy Zaluzhnyi. The commander is in place. He is doing his job. We just talked. This is a typical information technology aimed at demoralizing our Army. It is a real short-period effort, lasting from a few hours up to a day. That's because such reports are easy to check. So they expect to yield the effect by choosing the right moment to launch the spin and do it en masse," Maliar wrote.
According to the senior defense official, the timing, in this case, is clear as the battlefield tension in Bakhmut is at its peak at the moment. The Russians expect that demoralizing even a few Ukrainian soldiers can affect the situation on the front line in their favor.
"Actually, because of this, there were also a bunch of premature reports about the 'capture' of Bakhmut," Maliar emphasized.
As Ukrinform reported earlier, the situation is critical in Bakhmut, Donetsk region, as the Ukrainian military units are holding their defense lines in the Litak district.