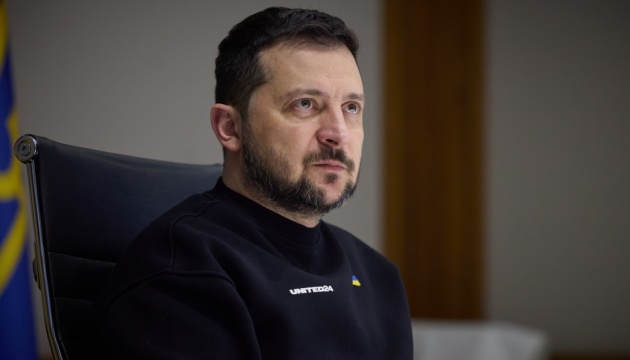 Ukraine has no right to lay down its arms prematurely - Zelensky
Ukrainian President Volodymyr Zelensky has said that the battle for the future of the world is underway, and Ukraine and its allies have no right to lay down their arms prematurely and not to fight until the final victory.
He said this in his address to the participants of the second PISM Strategic Ark conference, Ukrinform reports.
"The decisive battle for its future has been ongoing for 449 days. [...] We have no right to lose. We have no right to weaken our resistance and opposition for a moment, we have no right not to finish off the evil, to lose the unity of our allies, to lay down our arms prematurely, not to fight to the ultimate victory," Zelensky said.
He recalled that this forum is taking place on a significant date - May 18. "A day on which history has left us with many clues and lessons. Warnings and mistakes that we have no right to repeat on the path to our global security. It is May 18, 1792, when a Russian army of a hundred thousand troops crossed the borders of the Polish-Lithuanian Commonwealth and invaded its land. The Russian-Polish war began, the consequences of which we all remember," Zelensky said.
According to him, today the enemy is the same, and the goal and price of defeat are the same.
The president also mentioned another date - May 18, 2022, when NATO received applications for accession of two new members. He noted that the speed with which Finland has come this way and the high prospects of Sweden give Ukraine confidence and faith in the NATO Summit in Vilnius, in the Alliance's determination and will to reaffirm its choice in favor of the values of freedom and indivisible security.
"[This gives us confidence] that in July we will see a new important stage on Ukraine's path to NATO membership. On the path to a common and secure future. Of Ukraine. Europe. The world. Humanity," Zelensky said.
Photo: Office of the President of Ukraine