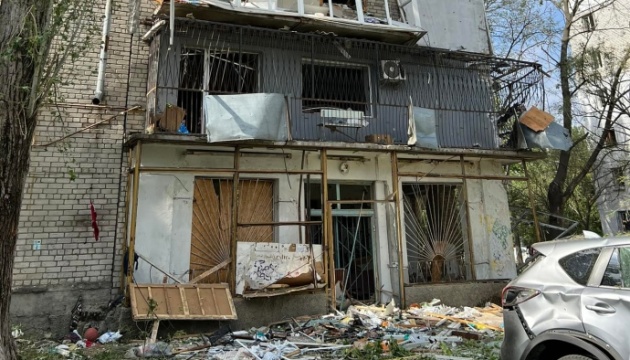 Russia's attack on Khmelnytskyi: At least 11 people injured
The number of those injured in Russia's nighttime attack on Khmelnytskyi has grown to 11, and their number may increase.
Khmelnytskyi Mayor Oleksandr Symchyshyn announced this on the air of the nationwide news telethon, Ukrinform reports.
"We are now checking the aftermath of this terrorist attack. There were no strikes on the territory of Khmelnytskyi community, but one of the objects in another community - neighboring to us - was hit, and as a result - blast waves caused serious damage to our city infrastructure. As of now, there are 11 injured, one person has been taken to the hospital, but his life is not in danger. The degree of injuries of the others is glass cuts, injuries from blows as a result of the falling ceiling and doors," the mayor said.
He also noted that the number of injured people may grow as people constantly go to the trauma center of the city hospital.
As reported by Ukrinform, on the night of May 13, the enemy attacked Khmelnytskyi region, hitting critical infrastructure.