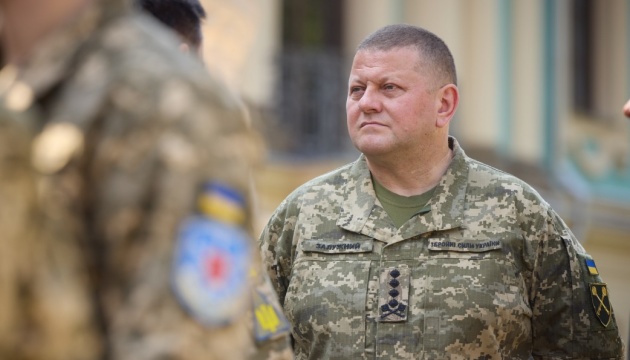 Not only heroism of Ukrainians but advanced technologies will lay basis for victory – Commander-in-Chief
Ukraine still has a long and challenging path towards its victory over the occupiers.
The relevant statement was made by Commander-in-Chief of the Armed Forces of Ukraine Valerii Zaluzhnyi in an interview with Dmytro Komarov's special project 'Year. Off-screen', an Ukrinform correspondent reports.
"I can see what should be done to win, but I know for sure that there is still a very long and difficult path to victory. I hope that God will be on our side, and victory will definitely be ours. As of today, what is happening and what we are holding on to are the Ukrainian people. These are a Ukrainian soldier and a sergeant, a Ukrainian officer, who die and are maimed every day, but hold their positions," Zaluzhnyi told.
In his words, Ukrainians were put in such conditions, when the invaders came from the Russian Federation and from the territory of Belarus to kill their wives, their children, destroy their houses. And these people, filled with the idea of protecting their loved ones, their land, went to defend them.
"We have lost many people so far, staff commanders. The war is started by military professionals but finished by teachers, engineers, accountants. This is what is happening now," Zaluzhnyi noted.
According to the Commander-in-Chief, not only the heroism of Ukrainians but also the use of advanced technologies and more effective equipment will lay the basis for Ukraine's victory. Zaluzhnyi expressed confidence that Ukraine would definitely win.
"But, for now, everything rests on the shoulders of ordinary people. All the victories that had been achieved – they were won with the lives of our Ukrainians who had laid down their lives, liberating Kherson, liberating the Chernihiv region, the Sumy region, Kyiv and the Kyiv region," Zaluzhnyi added.
Meanwhile, Russia does not value human lives.
"Losses in Afghanistan brought the Soviet Union to its knees. Now, the number of Russian losses is much higher, and they do not stop. There is only one conclusion: the cheapest thing that this country has is human life. Instead, in our country, it is the most valuable thing," Zaluzhnyi stressed.