"Forever young": French journalist Arman Soldin, killed by Russian missile
Colleagues refer to him as an incredible reporter with extraordinary drive and impressive humanity
Arman Soldin, a video reporter with the French news agency AFP, died on May 9 during a missile attack near Chasiv Yar. His tragic death was first reported by AFP. "The whole agency is devastated by the loss of Arman," AFP chairman Fabrice Fries said. "His death is a terrible reminder of the risks and dangers faced by journalists every day covering the conflict in Ukraine."
Along with Arman, there were four other AFP staffers who witnessed Soldin's death. The rest of the team, except for him, remained unharmed. According to the agency, their group was with the Ukrainian military when they came under fire around 16:30 local time on Tuesday. Soldin was killed when a missile hit not far from where he was lying, trying to hide from shelling.
The National Anti-Terrorist Prosecutor's Office of France has already launched an investigation into the death of the journalist. The case will be probed by a unit specializing in crimes against humanity and war crimes.
Arman Soldin became the 57th media representative killed as a result of Russian aggression, and the 10th journalist killed while performing professional duties.
Colleagues and other people who were lucky enough to know Arman in person told Ukrinform that he was an exceptionally bright individual, a true professional, full of love for life in all its manifestations.
BORN IN SARAJEVO AND KILLED IN UKRAINE
He was born in Sarajevo, the capital of Bosnia and Herzegovina. When the Bosnian war was unleashed, Arman was only one year old. In 1992, he was evacuated to France. He started his career as an AFP intern in the Rome Bureau before moving to London in 2015. Arman Soldin was appointed Ukrainian video coordinator in Kyiv last September. He became part of the first AFP team deployed in Ukraine after the Russian invasion on February 24, 2022. From the outset of the full-scale invasion, Arman Soldin was at the epicenter of events, gathering facts and covering Russia's brutal war on Ukraine, which resonated with his personal story.
"Arman always said the refugees stories were close to him because of his own story," AFP's Europe Director Christine Buhagiar told Ukrinform.
Actually, Arman Soldin himself spoke about this in his interviews.
"Refugee stories move me," he wrote on AFP's Making Of blog late last year.
In his stories, Soldin told how Ukrainians fight for their freedom; of brutal battles, the lives of civilians who became victims of war and tried to survive in inhumane conditions;of destruction of cities; and also demonstrated humanity toward all living things.
His colleagues say that he was a kind, energetic, and brave man, and also incredibly committed to his work, and even after a long, tiring, difficult day, he would upload footage to tell the world as much as possible of what he saw. Soldin was AFP's video coordinator in Ukraine and he regularly traveled to the front lines in the east and south of the country.
Christine Buhagiar recalls that Soldin was a journalist who sought to see everything with his own eyes before reporting it.
"Arman was both an incredible reporter and a lovely man. He could not be sat at a desk. He was always eager to report, to be on the ground, to tell human stories. His commitment to his work, his energy, his courage were extraordinary. He had a drive few people have," she said.
"FOREVER YOUNG"
On the day of his death, social medialiterally exploded with emotional comments, photos, and videos involving Arman Soldin. In one video released by AFP reporter Daphne Rousseau, they sing along with the song "Forever Young".
"Hoping for the best but expecting the worst Are you gonna drop the bomb or not?
Let us die young or let us live forever
We don't have the power but we never say never Sitting in a sandpit, life is a short trip"@ArmanSoldin on his first trip to Donbass, April 2022 pic.twitter.com/sEEFeAym7i

— Daphné Rousseau (@daphnerousseau) May 10, 2023
Rousseau told Ukrinform that this video was shot in UkraineApril 2022 and that there are actually three of them in the car.
"It was April 2022. On the way to Dnipro, then Kramatorsk. It was a military radio. Then that song played. There were three of us in the car: Arman, Yasuyoshi Chiba, and I. We've just been working on the Bucha massacre investigation for a week and we were very, very depressed when suddenly this song comes on and it's a new chapter in our coverage. The front line," Rousseau shared.
According to her, they sang like children who want to return to normal life. But then they could no longer listen to music in their car because it was too dangerous to do so while driving across Donbas.
This song is about hoping for the best but preparing for the worst. Let's die young or let's live forever, and that heaven will wait... Arman Soldin was killed in a missile attack near Chasiv Yar. He was only 32 years old...
"This loud Russian missile, this war that stole you from your people, it all makes no sense. But you might, as usual, manage to find meaning. Or you might laugh off the fact that there is none. Or to accept, as a philosopher, that you will never be the one you could once become," tweeted Daphne Rousseau.
Arman's colleagues say he was brave and creative, full of energy and tenacious. Despite shelling and the stench of death, Soldin could support others. He was also fully dedicated to his work.
Arman Soldin was fluent in French, English, and Italian, but his Bosnian roots helped him in his work in Ukraine. "It's also a Slavic language, we understand each other a little," he said.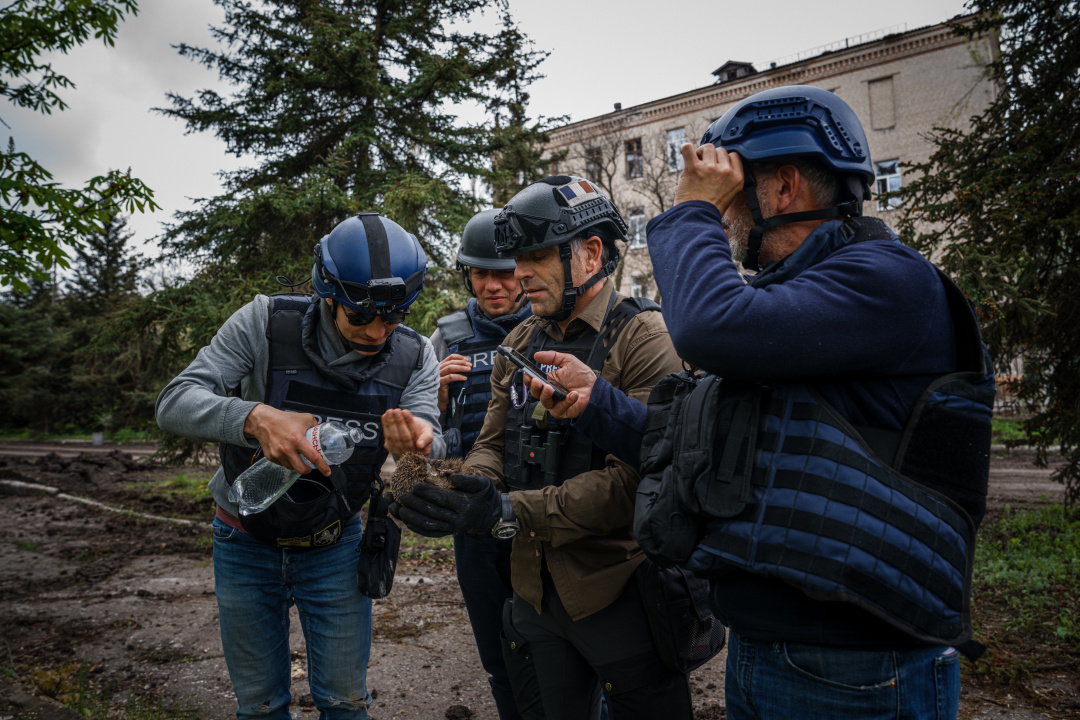 RESCUING LUCKY THE HEDGEHOG
However, the most understandable language, which needs no words, is humanity. That language Soldin has mastered impressively. He adored animals, which is evidenced by both his photos and actions. For example, he recently rescued in the active combat zone a hedgehog named Lucky.
"He was an extremely optimistic, positive, generous man, an animal lover as the story of the hedgehog shows, as its fetiche photo with the little cat show too. He had so many friends at AFP. For us all, he will remain an example of journalistic dedication. Dedication to tell the story of Ukraine and of its people. The loss for us is huge," said AFP's Europe Director Christine Buhagiar.
A UAnimals nonprofit were also stunned by the loss. A few days ago, they contacted Arman Soldin regarding the rescue in the war zone of Lucky the hedgehog. That video went viral on social media last week as it was filled with love for animals and respect for that tiny creature. All-Ukrainian animal protection organization UAnimals announced a grant in honor of the French journalist.
"We chatted just a couple of days ago, and today he died. Last week, French journalist Arman Soldin reached out to us, sharing a video of how he and his colleagues rescued an exhausted hedgehog found in a trench. He took care of the animal and later released it into the wild. We put up a small story based on Arman's video, and it was touching for many of our subscribers. He thanked us, and we rejoiced at his kindness. And we just found out that Arman died. This is a shocker. We're in stupor. We only knew each other virtually but we had enough time to feel how kind and devoted this man was. When the news of Arman's death broke, we had a meeting and decided to at least symbolically honor his memory. So... we are announcing a grant of UAH 100,000 for shelters and volunteers who rescue hedgehogs. To apply for a grant, please fill out a short application here. It hurts so much... Arman, you saved lives, while someone only knows how to take them. Goodbye," reads the UAnimals Facebook page, which decided to honor the memory of the fallen journalist.
SOLDIN'S LATEST PIECE AND CONDOLENCES FROM PRESIDENT MACRON
Sarajevo-born Soldin was a French citizen. The death of the brilliant AFP journalist stunned his fellow citizens. French President Emmanuel Macron expressed his condolences to the family and colleagues of Arman Soldin, who died in Ukraine.
"Agence France-Presse journalist Arman Soldin, one of our compatriots, was killed in Ukraine. Since the first hours of the conflict, he has courageously remained at the front to find out facts. To inform us. We share the pain of his loved ones and all his colleagues," French president tweeted.
One of Arman Soldin's last articles was about a field hospital near Bakhmut where medics save lives.
60 sec in a 'stabilisation point' near #Bakhmut

Deep inside the wound, the🇺🇦 soldier's heart is beating. It is 9 pm and he has just been brought to a field hospital from the battle for Bakhmut.

The bullet went through the young man's left arm, crossed his chest..#AFP #Ukraine pic.twitter.com/N9wVDNLDxh

— Arman Soldin (@ArmanSoldin) May 8, 2023
"Deep inside the wound, the Ukrainian soldier's heart is beating. It is 9 pm and he has just been brought to a field hospital from the battle for Bakhmut. The bullet went through the young man's left arm, crossed his chest....." Soldin wrote on Twitter on May 8.
The very next day, he died in a Russian strike near Bakhmut.
"Arman Soldin, an AFP journalist, was killed in a russian missile attack on Chasiv Yar, Donetsk region. Our heartfelt condolences go out to his family and coworkers. He dedicated his life to informing the world about the truth. His legacy, as well as his cause, will live on," Ukraine's Ministry of Defense wrote on Twitter.
Iryna Drabok
First photo: Redes sociais