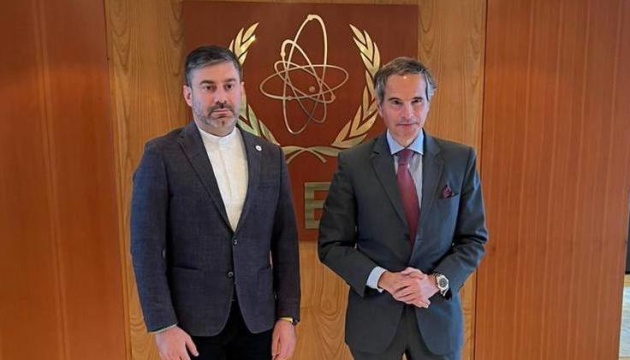 Ukraine's ombudsman discusses with IAEA chief NPP safety issues
The Verkhovna Rada Commissioner for Human Rights, Dmytro Lubinets, discussed with the General Director of the International Atomic Energy Agency, Rafael Mariano Grossi, a number of important safety issues related to the operation of nuclear power plants amid Russia's armed aggression, which involves targeted attacks on energy facilities across Ukraine.
The ombudsman reported this on Telegram, as seen by Ukrinform.
"With the Director General of the IAEA, Mr. Rafael Grossi, we discussed a number of important security issues related to the operation of nuclear power plants amid the armed aggression of the Russian Federation, which is conducting targeted attacks on energy facilities in Ukraine. In particular, during the bilateral meeting, the topic of the safety of Energoatom employees, deportation of personnel and their families, as well as the global issue of global nuclear security was raised," Lubinets wrote.
The ombudsman thanked Grossi for the fact that, despite the deliberate threats posed by the Russian military and ongoing shelling, not only was a mission set up to the Russia-captured Zaporizhzhia NPP, but Grossi also headed it, repeatedly visiting the facility.
"I believe this should set an example for all those who are 'concerned,' not just to support Ukraine with words, but to solve such complex problems though real and effective actions," Lubinets emphasized.
In addition, he added, the IAEA expanded its presence in Ukraine to help prevent a nuclear accident amid the Russian invasion.
"I also took the initiative for the IAEA together with the Ombudsman's Office to draft a special report on the issues of respecting the rights of IAEA personnel and their families, deportation, and security in general. In his turn, Rafael Grossi thanked me for the idea and said that he would work on the issue. We agreed to further discuss the idea during Mr. Grossi's next trip to Ukraine," Lubinets said.
As Ukrinform reported earlier, on May 6, IAEA Director General Rafael Mariano Grossi stated that International Atomic Energy Agency experts present at the Zaporizhzhia NPP received information that the evacuation of residents from Enerhodar, where most of the plant's personnel live, has begun.