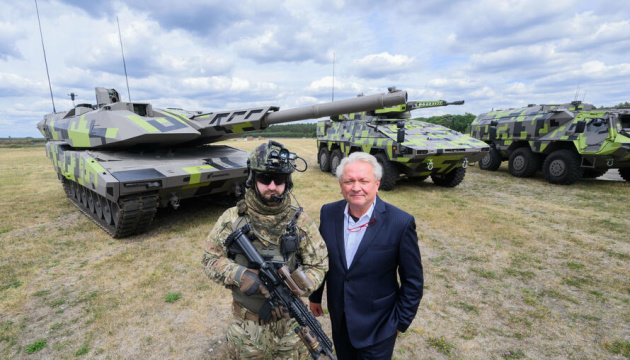 Rheinmetall wants to ramp up business in Ukraine - media
Germany's largest armaments company, Rheinmetall, sees itself on the right track to be able to manufacture tanks, anti-aircraft defense systems and ammunition in Ukraine in the future.
That's according to the business news site Handelsblatt, Ukrinform reports.
The company's CEO, Armin Papperger, said in Dusseldorf on Tuesday that the plans to produce armaments directly in Ukraine are taking shape. Attempts are being made to conclude some cooperation agreements and joint ventures with Ukrainian companies in the coming weeks, he said.
It is about joint ventures for vehicle systems, air defense and ammunition. "In this way, we are enabling Ukraine to defend itself in the medium and long term," the news outlet quoted Papperger as saying.
The investments in new plants would come from the Ukrainian state, he said.
As a specific example, he said there was a plan, known for two months, to build Panther-type main battle tanks in Ukraine. According to Rheinmetall's plans, it could be up to 400 tanks per year. Papperger described the preliminary talks with Kyiv on the tank project as promising.
Rheinmetall is on a strong growth path, which is also due to the increased global demand for armaments against the background of the Ukraine war. Papperger said he expected 2023 to be "the best year in the company's history in terms of order intake."
The arms group has very large capacities for tank ammunition and artillery, the CEO said. He also added that the company currently produces 150,000 rounds of tank ammunition and up to 600,000 rounds of artillery.