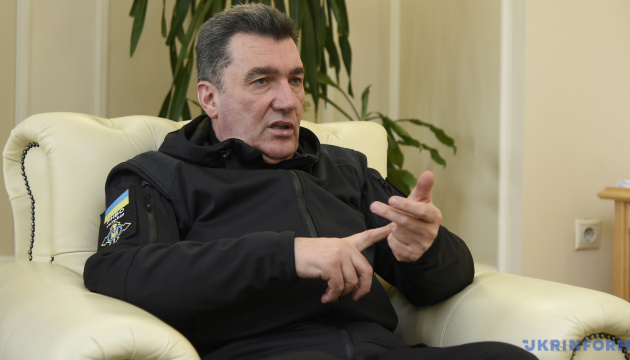 NSDC Secretary: Several options of Ukraine's offensive plan under development
Ukraine's military leadership is thoroughly working on several options for the future military actions intended to liberate the Ukrainian land from Russian invaders. Decisions will be taken with regard to the situation on the battlefield.
The relevant statement was made by National Security and Defense Council of Ukraine (NSDC) Secretary Oleksiy Danilov during a nationwide telethon, an Ukrinform correspondent reports.
"Our military know what to do, where and what time they need to do. Final decisions regarding the terms and directions will be made in the office of the Supreme Commander-in-Chief of the Armed Forces of Ukraine, the President of our country. When someone starts talking about something, even those from reputable institutions in the West, please trust me that today there are no people who know exactly all our plans. The final plan has not yet been approved; we have several options, and they are all under development," Danilov told.
In his words, Ukraine is grateful to international partners for the aid, which is being provided.
"Not only the United States, but also other countries are contributing. Today, we have a guest [President of the European Commission Ursula von der Leyen – Ed.], visiting our country, and a final decision has been made on what our country will start receiving from the European Union in the near future. One million [artillery] rounds, which is absolutely necessary for us to defeat the rashists. The aid is coming and will not stop," Danilov stressed.
A reminder that, on May 9, 2023, during a plenary session in Strasbourg, the European Parliament voted in favor of speeding up work on the Act in Support of Ammunition Production (ASAP).