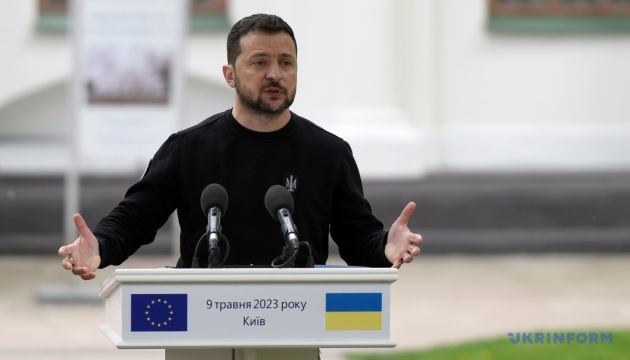 Zelensky on intensifying missile strikes: Russian leadership needs to "sell" something to society
President of Ukraine Volodymyr Zelensky believes that the intensification of missile strikes on the territory of Ukraine is an attempt by the Russian leadership to demonstrate certain "victories" to its society.
He expressed this opinion during a joint briefing with the head of the European Commission Ursula von der Leyen in Kyiv, an Ukrinform correspondent reports.
According to the President, after a long pause between enemy shelling involving a large number of missiles, there is now renewed activity.
"In my opinion, the leadership of the Russian Federation needs to 'sell' something to its society, because there are no victories. There is a voracious society that supports radical actions, many deaths. They are always happy about it," Zelensky said.
He added that the city of Bakhmut, which Russia intended to capture by May 9, could not be "sold" as a victory because it was not possible to occupy it. "Although, unfortunately, the whole city no longer exists. However, they can "sell" it as a victory: the capture or destruction of another city. They failed to capture anything before May 9, so they had to show the destruction. But they didn't succeed on May 9," the President of Ukraine added.
As Ukrinform reported earlier, the Russian Federation has been shelling the territory of Ukraine much more actively in recent days. In particular, on the night of May 9, the Russians attacked the territory of the Ukrainian state with sea- and air-launched cruise missiles. The Ukrainian Air Force destroyed 23 of the 25 cruise missiles.