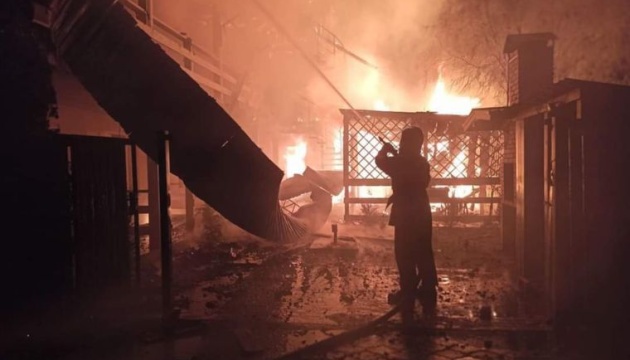 Country houses, recreation centers destroyed in Odesa region due to shelling
As a result of shelling in Odesa region, country houses and recreation centers were destroyed.
The spokesperson for the Defense Forces of the South of Ukraine Nataliia Humeniuk said this in the telethon "United News", Ukrinform reports.
"The fact that they attacked with strategic bombers from the direction of Sevastopol is another sacredness and binding that they like to significant dates, events, etc. This is what we predicted," she said on the air of the telethon.
Humeniuk said the Russians hit the recreational area, "reminding the residents of our region that the coastline today is a line of danger and defense, not a line of resort and recreation."
Humeniuk noted that powerful fires broke out in the areas where the missiles hit, but they have already been extinguished, and there is no information about casualties.
"Destroyed country houses, destroyed recreation centers. This means that the enemy is trying to hit where people are trying to restore their lives," she said.
As reported, in Odesa region, the enemy launched a missile attack from strategic aviation aircraft. The enemy sent Kh-22 missiles to a warehouse of a food company and a recreational area on the Black Sea coast. A fire broke out.
Photo: Operational Command "South"