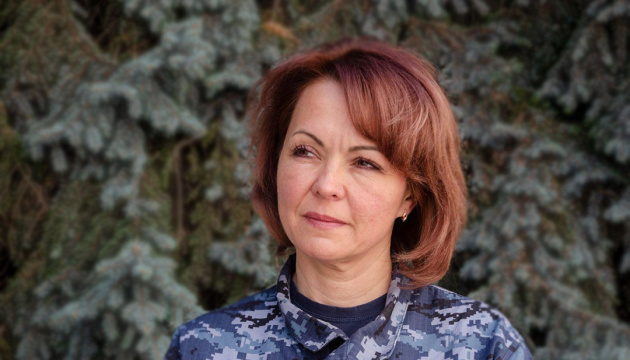 Invaders 'evacuate' people to places where they deploy their military equipment, units – Humeniuk
Under the guise of 'evacuation' from the temporarily occupied areas, Russian invaders are taking civilians to the places, where they are deploying their military equipment and units to use people as a living shied.
The relevant statement was made by Head of the United Coordinating Press Center of the Southern Defense Forces Natalia Humeniuk during a nationwide telethon, an Ukrinform correspondent reports.
"We see an imitation of caring for local residents every time the rashists get a little hot. We saw this action on the right bank as well, when they were actively relocating the locals. We also see this in the left-bank Kherson region now, when they are showing pseudo-concern and trying to evacuate people deeper, i.e. to the places where they are setting up their defense lines and, accordingly, trying to redeploy units and shield themselves with local residents," Humeniuk told.
In her words, civilians are filling the areas where the enemy is deploying their military equipment and units.
According to Humeniuk, when Russians relocate Enerhodar residents to Berdiansk, they do not consider it to be the most secure place but want to persuade everyone else that they are evacuating people to safer areas.
A reminder that Russian occupiers announced 'evacuation' from 18 settlements in the Zaporizhzhia region's temporarily occupied areas. According to Melitopol Mayor Ivan Fedorov, Russian invaders are planning to relocate about 70,000 residents.