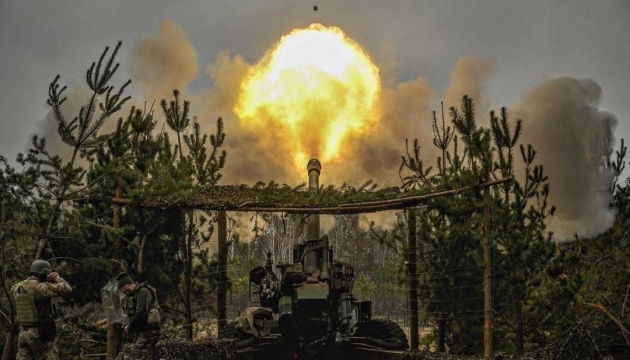 Ukraine's defense forces repel about 50 Russian attacks in three sectors – General Staff
Ukraine's defense forces on Thursday repelled about 50 enemy attacks in the Lyman, Bakhmut and Marinka sectors.
According to Ukrinform, the General Staff of the Armed Forces of Ukraine said this in its evening update published on Facebook.
"The enemy continues to focus their main efforts on conducting offensive operations in the Lyman, Bakhmut and Marinka area - about 50 enemy attacks were repelled. The fiercest fighting continues for Bakhmut and Marinka," the report reads.
Throughout the day, the combat aircraft of Ukraine's defense forces launched six strikes on areas where the invaders' military personnel were stationed. In addition, four Lancet loitering munitions were destroyed. Ukraine's rocket and artillery forces hit five enemy concentration areas, two ammunition depots and an electronic warfare station.
Russia launched another attack on Ukraine overnight, using Iranian-made Shahed-136/131 attack UAVs. Ukrainian defenders destroyed 18 out of 24 of them.
The General Staff also reported that today the enemy carried out six missile strikes on the cities of Kramatorsk and Zaporizhzhia, 66 airstrikes and 33 MLRS attacks on the positions of Ukrainian troops and populated areas. Unfortunately, civilian casualties were recorded, private residential buildings, educational institutions and other civilian infrastructure were destroyed and damaged.
The General Staff reported that Russian troops continue to suffer heavy losses on the battlefield, all medical facilities in the temporarily occupied territory are full of wounded soldiers.
"As a result, the enemy continues to use civilian educational institutions as medical institutions. For example, in the settlement of Myrne, Zaporizhzhia region, the occupiers are converting the sports hall of a local school into a military hospital. At the same time, the Russian aggressors are forcing the teaching staff to continue the educational process with compulsory school attendance by children," the report said.
Photo: General Staff of the Armed Forces of Ukraine