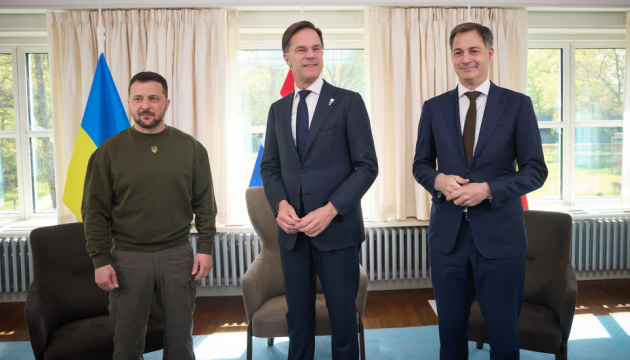 Rutte: The Netherlands sees no taboo on F-16 fighter jets for Ukraine
The Netherlands, together with its partners, is working out options for the supply of F-16 fighter jets to Ukraine, there are no taboos in this matter.
Prime Minister of the Netherlands Mark Rutte said this during a joint press conference with President of Ukraine Volodymyr Zelensky and Prime Minister of Belgium Alexander de Croo in The Hague, an Ukrinform correspondent reports.
In particular, according to Rutte, there is no taboo on the provision of F-16 jets to Ukraine.
"We are working intensively with our partners – Belgium, Great Britain, Denmark, and others – to somehow bring this discussion to a conclusion. We are not there yet. It is a sensitive issue. In fact, I have seen it before with the Leopard 2 tanks, I have seen it before with French howitzers. We need time to come to a common conclusion. But howitzers are in Ukraine now and Leopard 2 tanks are being delivered to Ukraine," Rutte said.
As reported, President Zelensky said that Ukraine hopes for a positive result on the issue of the provision of F-16 aircraft by Western partners.