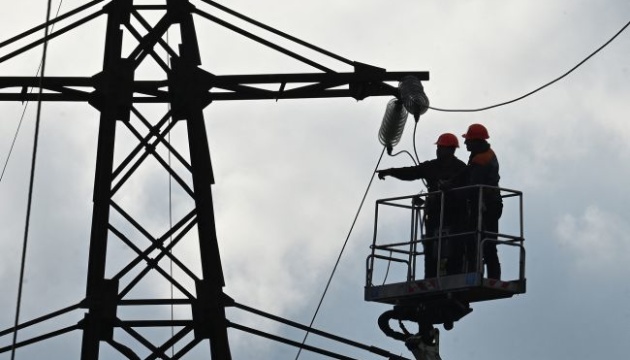 Equipment of seven regional power distribution operators damaged due to shelling - Ukrenergo
Russian shelling damaged the equipment of distribution system operators in seven regions.
That's according to Ukrenergo on Telegram, Ukrinform reports.
"The previous day was difficult for the power system of Ukraine. The enemy launched massive rocket and artillery attacks along the entire front line. The equipment of distribution system operators (oblenergo) in Chernihiv, Kharkiv, Sumy, Donetsk, Dnipro, Zaporizhzhia, and Kherson regions suffered the most damage. Trunk power grids did not suffer any new damage," the statement said.
It is noted that in Kherson, more than 6 thousand consumers were cut off from electricity supply due to rocket attacks. In Sumy region, artillery shelling has been going on along the entire border with Russia since the evening. Where the security situation allows, emergency repair works are underway.
In Dnipropetrovsk region, the power supply has been restored to about 15,000 consumers, which was affected by nighttime shelling. In Donetsk region, power supply to residential consumers in Toretsk, which was cut off due to repeated shelling, has been restored.
At midnight, Russia launched a missile attack on a power generation facility in Donetsk region, damaging equipment and cutting off power to about 186,000 consumers. In the morning, power supply to all consumers in these regions was restored.
"Despite all the losses and damages, Ukraine's power system continues to operate in a balanced manner and there is no electricity shortage. Hydroelectric power plants and renewable energy plants are actively operating, which compensates for the decrease in the share of thermal and nuclear power plants," Ukrenergo added.
As reported, on the night of May 4, 2023, the Russian aggressor struck a generation facility in Donetsk region. Also, some consumers in four regions remain disconnected due to the hostilities.