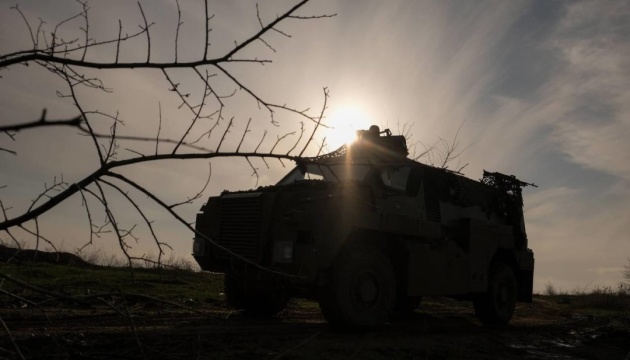 Ukraine's defense forces repelled 36 Russian attacks in three areas - General Staff
Ukraine's defense forces repelled 36 attacks by Russian invaders in the Bakhmut, Avdiivka and Marinka areas on Tuesday, April 26.
According to Ukrinform, the General Staff of the Ukrainian Armed Forces said this in its evening update posted to Facebook.
According to the General Staff, Russian troops are concentrating their main efforts on conducting offensive operations in the said areas. The fiercest fighting continues for Bakhmut and Marinka in the Donetsk region.
Throughout the day, Ukrainian combat aircraft carried out five strikes on Russian troops and equipment concentration areas and one strike on the enemy's air defense system.
Ukrainian rocket forces and artillery struck an anti-aircraft missile system, an enemy troop and equipment concentration area, and a radar station of the Russian army.
The invaders launched a missile strike in the city of Kupiansk, Kharkiv region. At other locations, Russian troops carried out six airstrikes and more than ten attacks using multiple launch rocket systems.
In the temporarily occupied and captured territories of Ukraine, Russian invaders continue to use children's educational institutions for their own purposes, setting up military facilities there and covering themselves with a "human shield" of children and teaching staff.
In particular, in Urzuf, Mariupol district, Donetsk region, about 200 mobilized Russian soldiers are stationed in a children's camp.
According to the General Staff, the invaders continue to loot in Ukraine. In Kardashynka, Skadovsk district, Kherson region, Russian soldiers search houses at night, stealing household appliances and cars from civilians.