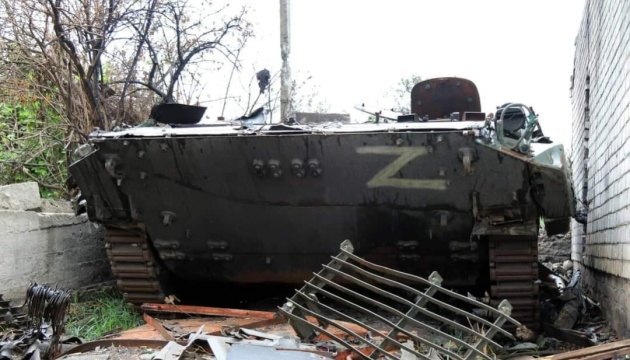 Cherevaty: 175 invaders decimated in Bakhmut direction
The Russian occupation troops in Bakhmut direction attacked the positions of the Ukrainian troops 23 times, launched 280 strikes with various types of artillery, and carried out four air raids over the past day. During the fighting, Ukrainian defenders killed 175 occupiers and wounded 213 more.
"Over the past day, the enemy attacked our positions in Bakhmut direction 23 times, launched 280 strikes with various types of artillery, and carried out four air raids. There were 85 strikes and 20 engagements near Bakhmut alone. As a result of military operations, 175 occupiers were killed and 213 were wounded. In this direction, an enemy T-72 tank was damaged, four infantry fighting vehicles, three Msta-B howitzers, five unmanned aerial vehicles, one electronic warfare station, as well as four field ammunition depots were destroyed," Serhiy Cherevaty, the Spokesman of the Eastern Group of the Armed Forces of Ukraine, said during the national news telethon, an Ukrinform correspondent reports.
He noted that a positional war is ongoing in Bakhmut, and the situation here is extremely dynamic. In addition, Bakhmut actually becomes the final frontier for Wagner fighters.
"I think that over time our military analysts will name the exact numbers, but the enemy's losses here are huge. As for the Wagner criminal group, it is no longer able to independently carry out combat missions as it sought to do before, actually monopolizing this direction. Although the Wagner fighters are still the main attacking force in Bakhmut direction, they can no longer act without the help of the regular army. Air assault units of the occupiers' troops, special-purpose units are increasingly being used, so we understand that the enemy's losses are very significant, and this is probably the final line for Wagner," Cherevaty emphasized.
As reported, from February 24, 2022 to April 25, 2023, the Armed Forces of Ukraine eliminated about 187,770 Russian aggressors, including 690 soldiers over the past day.