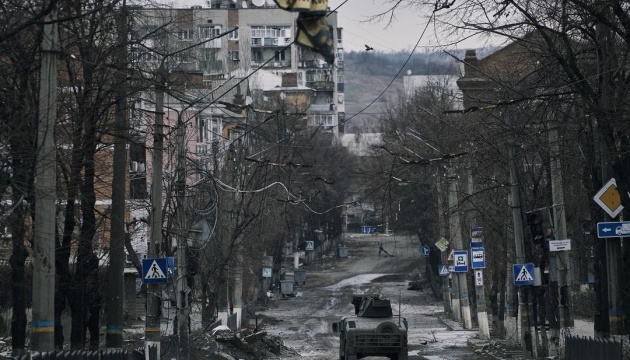 Russians use gas against AFU during Bakhmut storming - military
In the city of Bakhmut in Donetsk region, Russian troops are using gas of unknown origin against the Ukrainian Armed Forces. The most combat-ready units have been deployed around the city.
Military in Bakhmut said this to Radio Liberty correspondents, Ukrinform reports.
"The situation in Bakhmut is tense, numerous most combat-ready units have been deployed around the city. We have tied up them here, and they cannot move to other areas," said the deputy commander of the second rifle battalion of the 93rd Brigade, "Philosopher" call sign.
He added that Russian forces had built very smart defense and combat formations in Bakhmut, so the fighting was heavy. Russians are conducting offensive actions throughout the city at night and during the day, according to "Philosopher".
An air defense system operator who goes by the call sign "Bayraktar" said Russian troops are using an unknown gas against the Ukrainian Armed Forces.
"There are still high-rise buildings, and they are using gases here. Three days ago, they threw some bombs with specific gases. Some kind of chlorine. You are sitting in the basement and realise that you do not have enough air, it is difficult to breathe," the military said.
As reported, in Bakhmut, Ukrainian defenders are actively counterattacking in addition to defensive actions. This on April 24, the commander of the Land Forces of the Armed Forces of Ukraine, Colonel General Oleksandr Syrsky said. According to the commander, the situation in the Bakhmut sector remains tense, with heavy fighting continuing. In several settlements near Bakhmut, the Russian offensive failed.
At the same time, the invaders do not abandon the goal of encircling Bakhmut and are using all possible forces and means to do so, up to the city's total destruction.
Photo: Kostyantyn Liberov