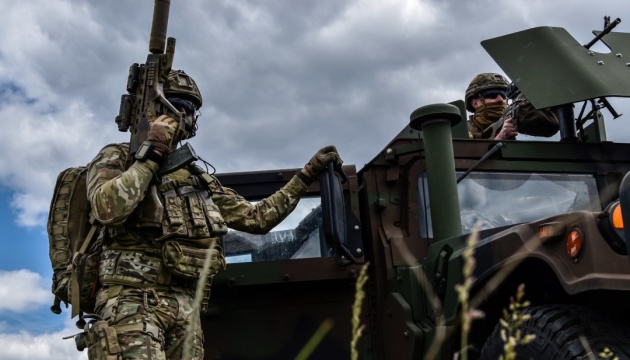 SOF fighters destroy tank near enemy, take trophies
Special operations forces have shown how they destroyed a Russian tank and infantry fighting vehicle in the gray zone in the Donetsk region and captured important trophies.
Сommand of the Special Operations Forces of the Armed Forces of Ukraine posted the video on Facebook, Ukrinform reports.
"The enemy equipment was located between the positions of the defense forces and the Russians - 150 meters from the enemy. This area was clearly visible to enemy observers. Nevertheless, a combat group of the Ukrainian Armed Forces moved into the gray zone with an order to destroy the Russian equipment," the statement reads.
After passing through the minefields, the SOF soldiers reached the armored vehicles. "During the inspection, important trophies were found: documents, weapons and radio stations, which our operators took with them," the SOF noted.
Having mined the equipment, the combat group returned back. "And the Russian T-72 tank and BMP-1 were blown up right in front of the enemy," the Ukrainian Armed Forces added.
As Ukrinform reported earlier, in the Donetsk sector, the Defense Forces destroyed an enemy automated jamming station R-330Zh "Zhytel" using a HIMARS multiple rocket launcher.