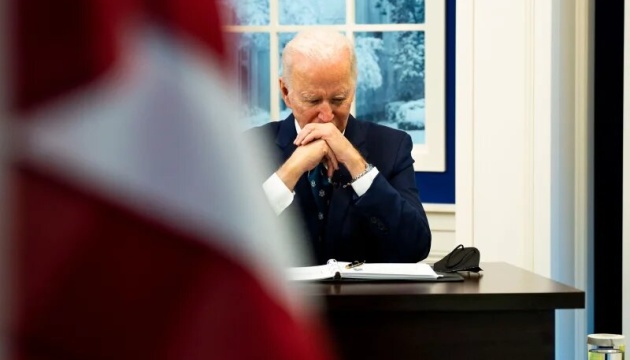 Group of Republicans calls on Biden to stop sending aid to Ukraine
A group of 19 far-right Republicans on Thursday sent an official letter to President Joe Biden in which they laid out pro-Russian narratives and called on the U.S. government to stop sending military aid to Ukraine.
The letter has been published on the official website of one of the signatories of the letter, Senator Mike Lee, according to Ukrinform.
"We are deeply concerned that the trajectory of U.S. aid to the Ukrainian war effort threatens further escalation and lacks much-needed strategic clarity," the letter reads.
It also adds that as the war enters its second year, "there is no end in sight" and no clear strategy to bring this war to a close.
"A proxy war with Russia in Ukraine is not in the strategic interest of the United States and risks an escalation that could spiral out of control," the signatories said.
Republicans accused the Biden administration of "settling in for a long-term conflict" and said the current strategy of sanctions and drawn-out aid will only prolong the conflict, leading to escalation and more violence. They said unrestrained U.S. aid for Ukraine must come to an end and added that with every new aid package and every new weapon provided to Ukraine, the risk of direct conflict between the U.S. and Russia climbs.
"We will adamantly oppose all future aid packages unless they are linked to a clear diplomatic strategy designed to bring this war to a rapid conclusion," the authors of the letter said.
They called the decision to transfer the HIMARS systems to Ukraine last June "a serious provocation" and spoke negatively about the transfer of Abrams tanks to Ukraine. "Our military assistance goes beyond tangible assets to include military training and intelligence support. The extent of our aid makes it increasingly difficult to deny Russian accusations of U.S. complicity in a proxy war," they said.
"Russian tolerance for fighting a proxy war with NATO could run out at any point," the signatories said.
They also accused the Biden administration of helping Ukraine "at the expense of U.S. military readiness."
The letter was signed by 19 House members, including Mike Lee, Eli Crane, Rand Paul, Andy Biggs, JD Vance, Dan Bishop, Lauren Boebert, Josh Brecheen, Tim Burchett, Matt Rosendale, Matt Gaetz, Marjorie Taylor Greene, Anna Paulina Luna, Barry Moore, Mary Miller, Ralph Norman, Andy Ogles, Mike Collins, and Paul Gosar. Most of them are linked to the far-right MAGA movement and former U.S. President Donald Trump, known for his statements in favor of Russia's interests.
Photo: NYT