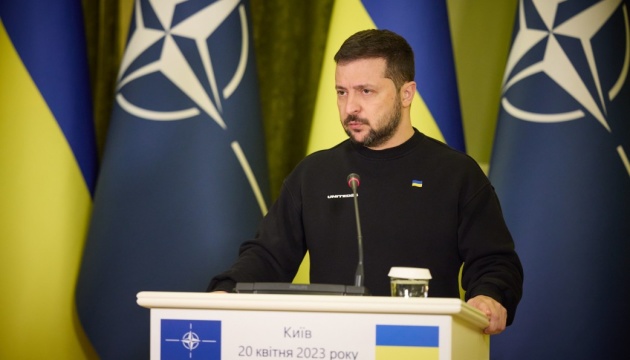 NATO ready to start new chapter in relations with Ukraine - Zelensky
The Ukrainian authorities interpret NATO Secretary General Jens Stoltenberg's visit to Kyiv as a sign of the Alliance's readiness to open a new chapter in its relations with Ukraine.
President Volodymyr Zelensky said this during a joint briefing with the NATO chief in Kyiv, an Ukrinform correspondent reports.
"We interpret this visit of the NATO Secretary General, the first since the full-scale war, as a sign that the Alliance is ready to start a new chapter in relations with Ukraine - a chapter of ambitious decisions," the Head of State said.
He noted that Stoltenberg began his visit to Ukraine with a visit to Bucha, Kyiv region.
"The whole of Europe and the world need a clear understanding that only the victory of Ukraine will save other states and peoples from the same terrible destruction, losses, and deaths that Russia has brought to our land," the President emphasized.
According to him, during the talks with Stoltenberg, they discussed, in particular, the upcoming meeting of the Ukraine Defense Contact Group in the Ramstein format, which will take place on April 21, and the decisions expected from the partners.
"First of all, it concerns the armed support of our active actions. The further our soldiers on the frontline can move, the sooner the most important thing - peace - will return to Ukraine and the whole of Europe," Zelensky said.
He also noted that they had discussed the restraint of some partners in the context of defense support. "I asked Mr. Secretary General to help overcome the restraint of our partners in the supply of certain weapons, namely long-range modern aviation, artillery, armored vehicles. Slowing down the relevant decisions is time lost for peace. This is the life of our soldiers who have not yet received vital defense tools in the appropriate quantity," Zelensky said.
As Ukrinform reported earlier, NATO Secretary General Jens Stoltenberg is visiting Ukraine on April 20.