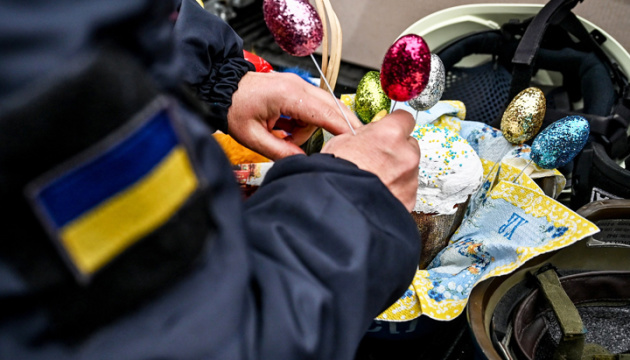 Residents of Orikhiv, a town in Zaporizhzhia region which is constantly under Russian fire, will celebrate Easter at a Point of Invincibility
Every day, Russian troops drop guided aerial bombs on Orikhiv. This town is located near Zaporizhzhia, and people still remain here despite the merciless enemy attacks.
We arrived in Orikhiv on the eve of Easter together with the rescuers of the State Emergency Service of Ukraine who brought Easter cakes to the residents to lift their spirits and cheer them up.
'SCARS' OF THE TOWN
We arrived in the town around 09:30. Streets are empty, loud rumble is heard all the time. Orikhiv is bombed-out, the enemy seems to have decided to wipe out houses, schools, shops... In particular, the aggressor completely destroyed the Suzirya gymnasium in Orikhiv. It was struck four times at least, including with aerial bombs. Locals say it was one of the best educational institutions in the region. Now it's turned into ruins, among which we can see class registers, textbooks, notebooks, and school equipment.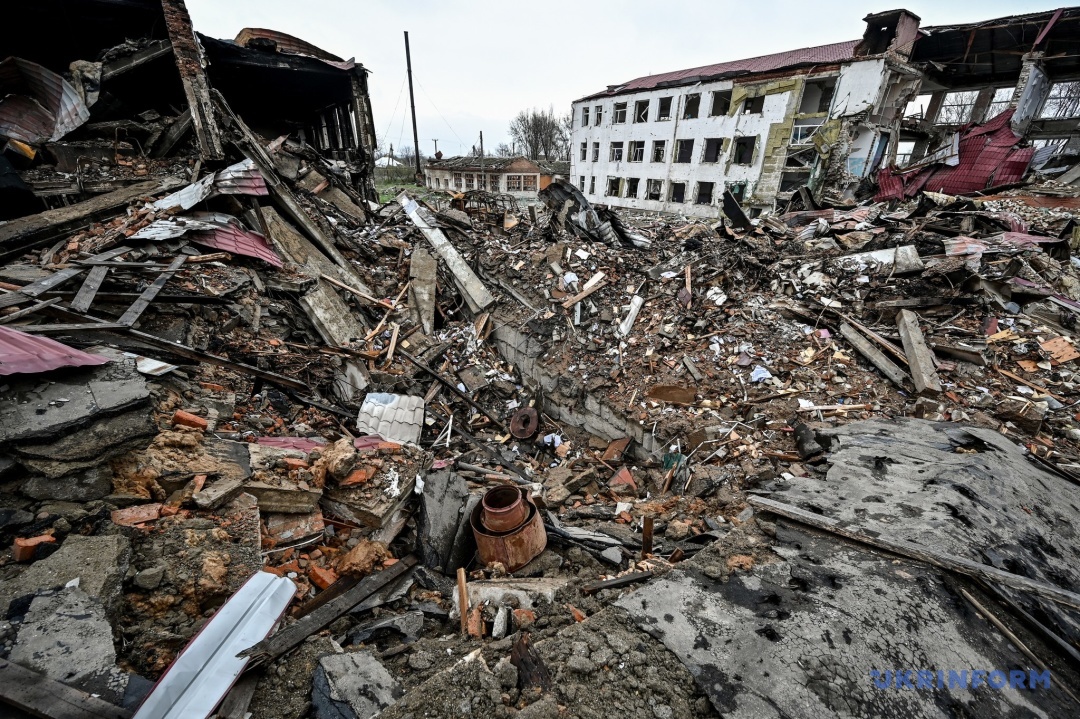 Suzirya gymnasium
The private residential sector resembles a horror movie scenery, it is not enough time between the attacks to "patch" high-rise buildings.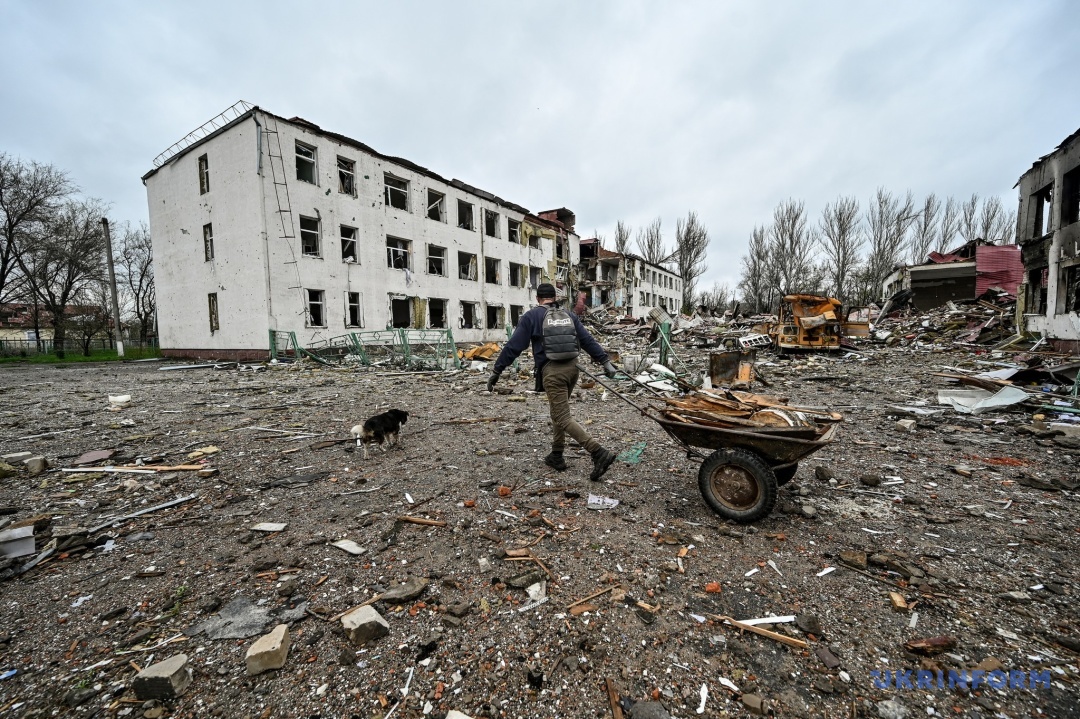 Meanwhile, we drive up to one of the Points of Invincibility. There, hot food was just prepared, and the townspeople were waiting for breakfast.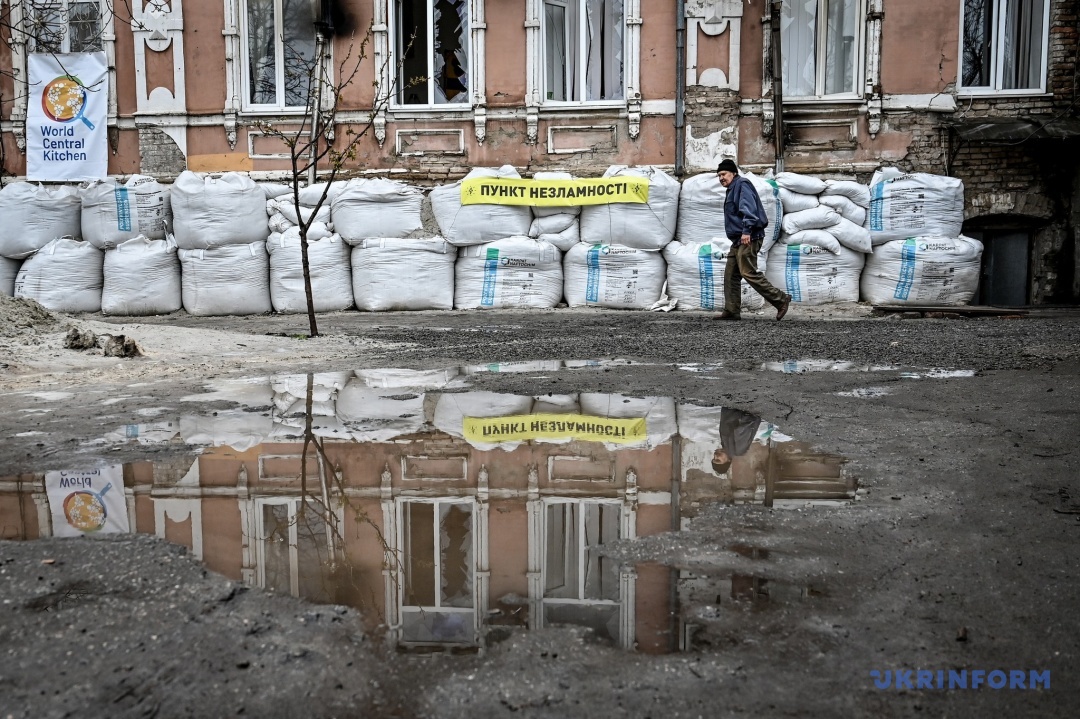 We go into the premises. The State Emergency Service officers bring in boxes with Easter cakes and improvised Easter baskets that they made from their helmets. The Point of Invincibility obviously did not expect such a surprise. For a few seconds, people stood as if shocked and then began to hug the rescuers.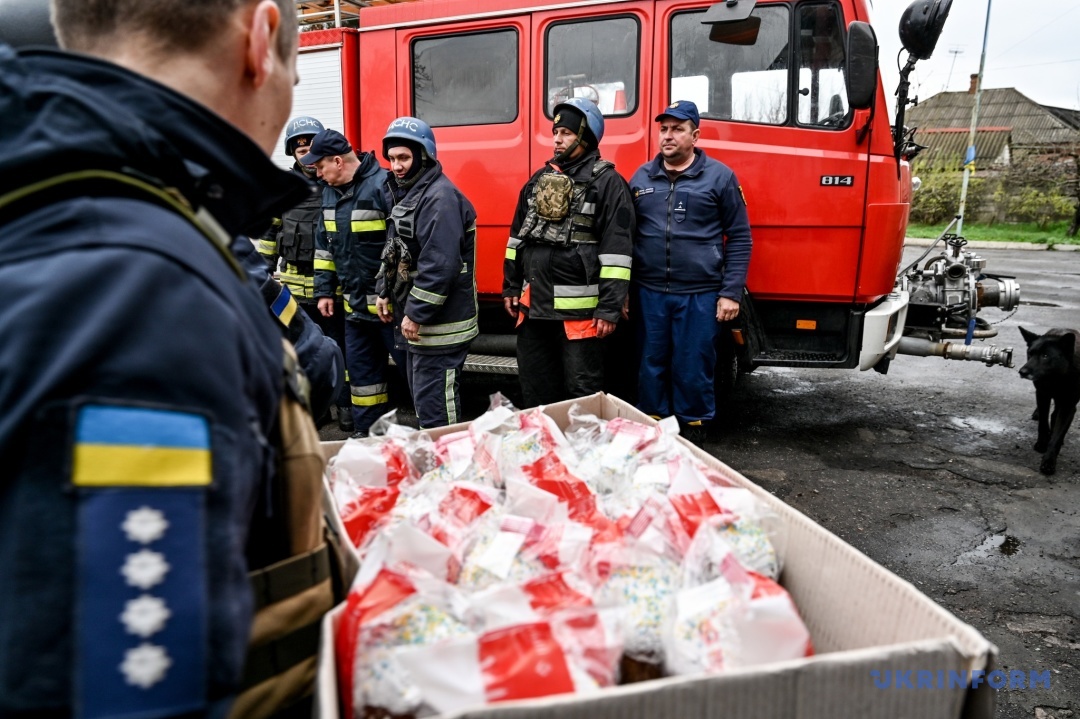 "We would like everyone who remained here to be able to eat an Easter cake or bake it. The arrival of State Emergency Service soldiers was very unexpected to us. This is a gift for us. The most important thing for people is that they are not forgotten, that they are congratulated," says Liubov Yarova, head of the local Point of Invincibility.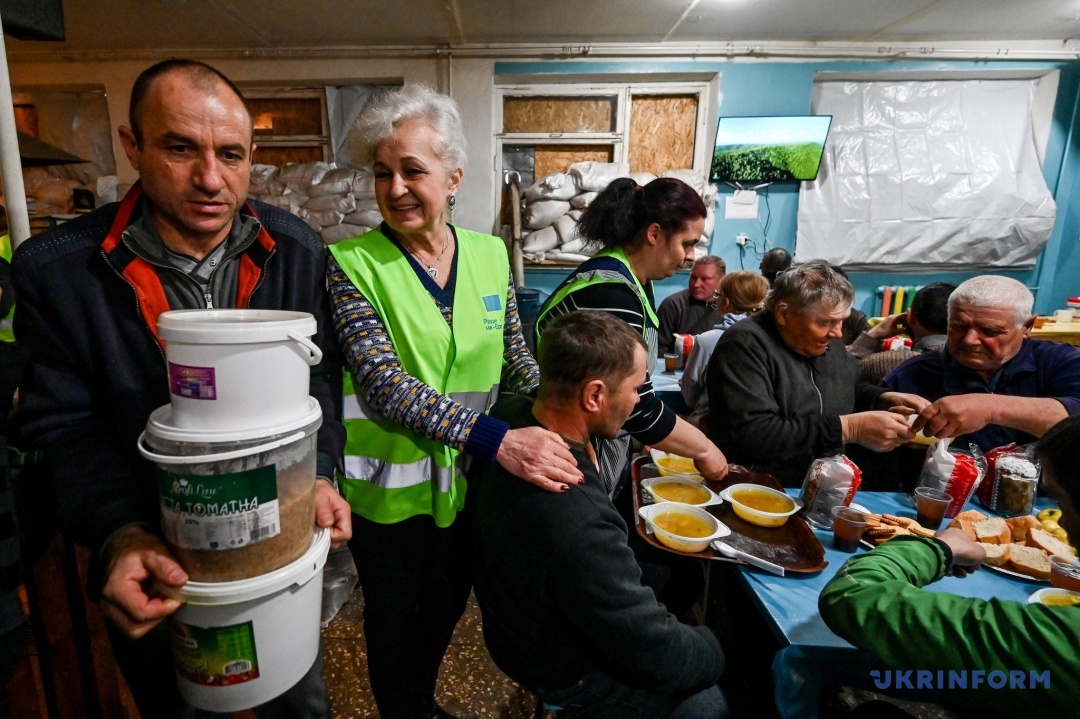 Liubov Yarova
Before the war, she worked as the director of a children's art center and is a member of the town council. Yarova did not leave the town even for a day. At the "new" workplace, she controls the distribution of meals, the work of a medical office, and everything related to the activity of this Point.
"We are ready to feed up to 300 people per day. Coffee, tea, snacks, hot meals for lunch and dinner, phone charging, hygiene procedures – we help as much as we can. There has been very loud here every day over the past three weeks. Now the enemy fires guided air missiles. We were warned that a large-scale shelling could begin at 10 o'clock. We gather people in the basements," Yarova says.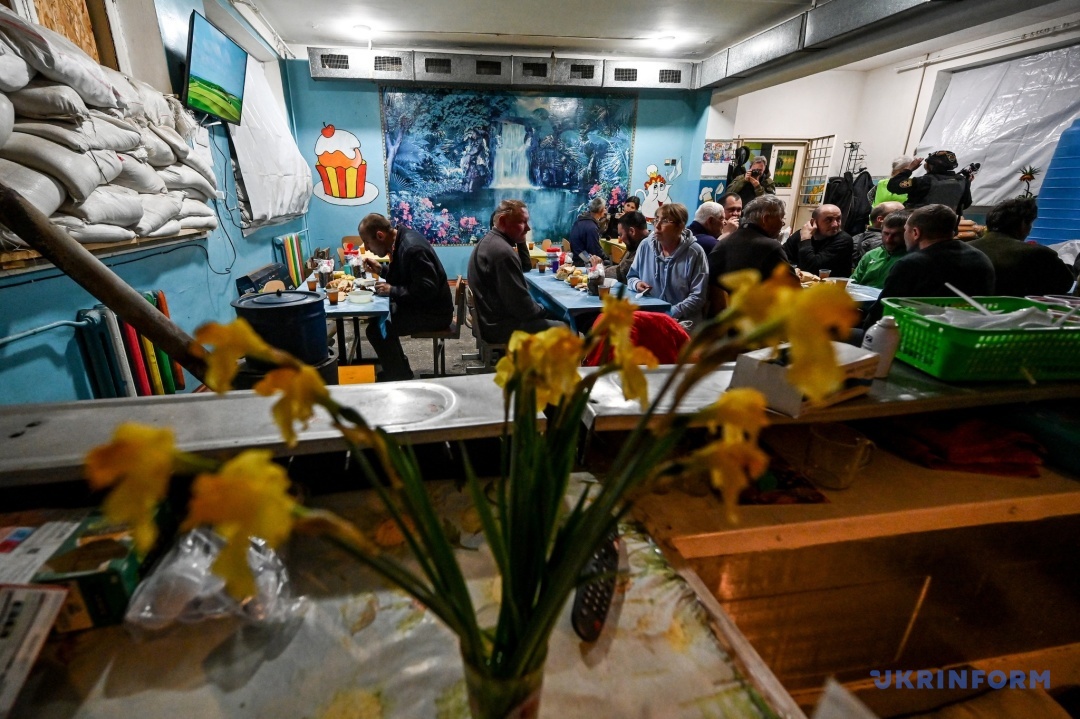 STAYING ALIVE
Utility workers and ordinary residents of the town are gradually gathering in the dining room.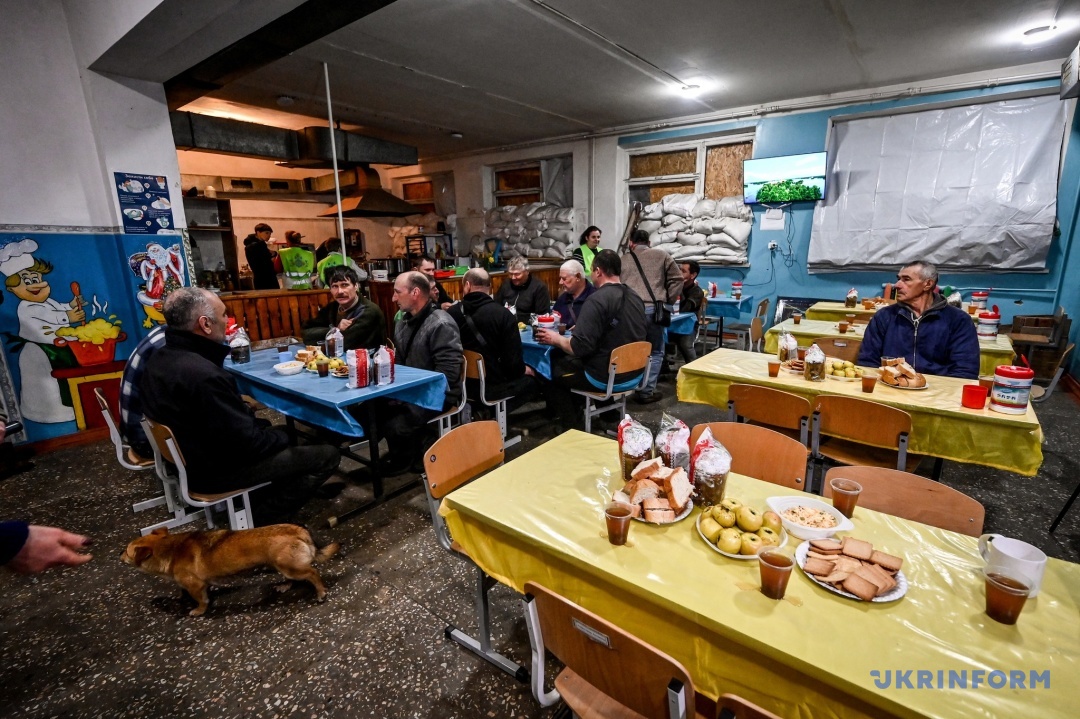 "Today we prepared meals for 200 visitors. We cooked 80 liters of soup, rice, millet porridge, pasta, stew, and meatballs. I arrive here at 06:30. Everything is fresh, we cook food here. We have a gas stove, and we also cook on our 'friend and helper'," Nadiya Mykhailivna says, pointing to a potbelly stove.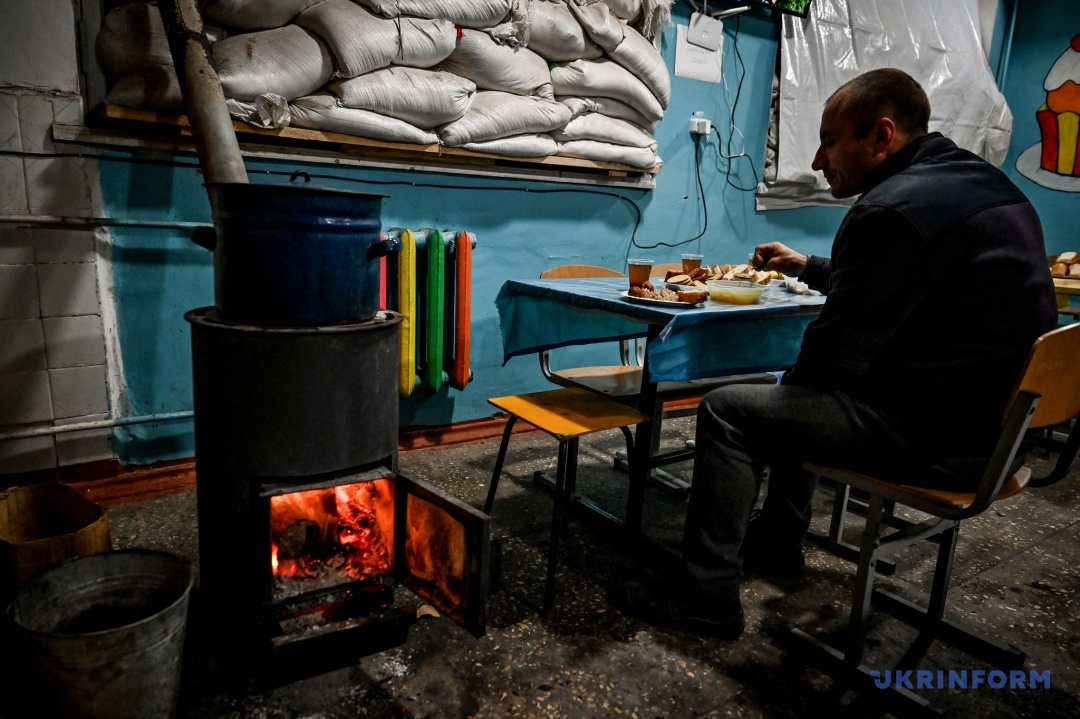 The woman works as a cook in a kindergarten. Before the full-scale war, she lived in the village of Nesterianka (Orikhiv community) which is currently under occupation. She left the occupation exactly one year ago. She remembers how she drove to Zaporizhzhia for four days through Tokmak, Vasylivka, and Polohy. However, she lived in Zaporizhzhia for only a month. She says she couldn't stand it. The woman came back and now lives in Preobrazhenka.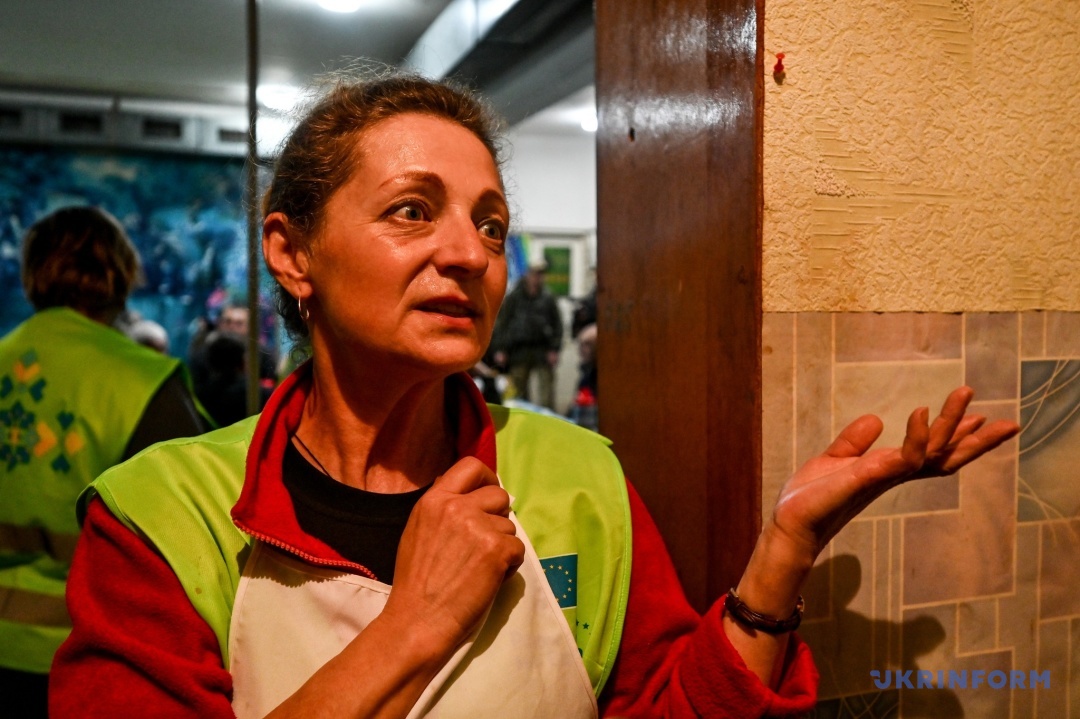 "The night was terrible, I counted 20 hits. It was very loud. Somewhere nearby. I live for the moment. Everything got mixed up. I have no days off, no holidays. I just know that I have to go to work every other day. I don't know if I have a place to return to, a house... 'Staying alive' is about us. Someone complains that something is missing... and I remember the phrase that our grandmothers used to say: "If we are alive, we are not dead". I didn't understand it before. It just now came to me what this phrase is about. Indeed, the main thing now is to stay alive. I want to survive. Everything else is trifles," the woman says.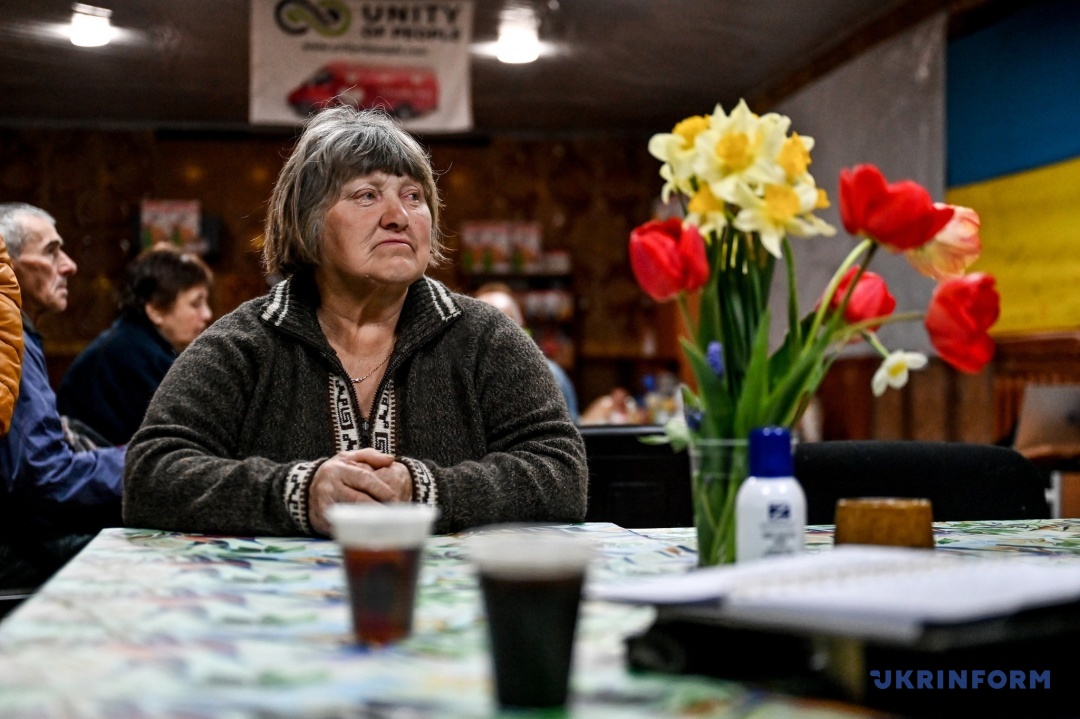 'INVINCIBLE' EASTER
Despite the extremely difficult situation and life under constant shelling, people are preparing for Easter.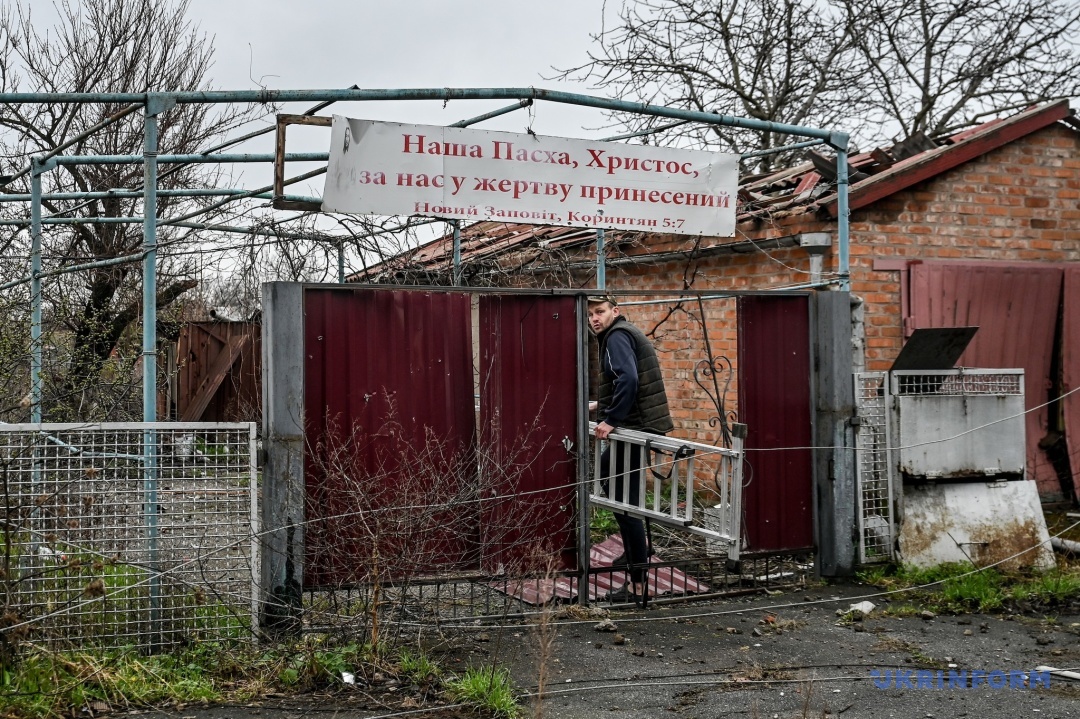 "Church services will only be online and only at the Points of Invincibility because there is practically no electricity in the town. A lot of strikes have been launched on the district energy system. The restoration of the electricity supply is not expected in the near future. We have generators working," Yarova says.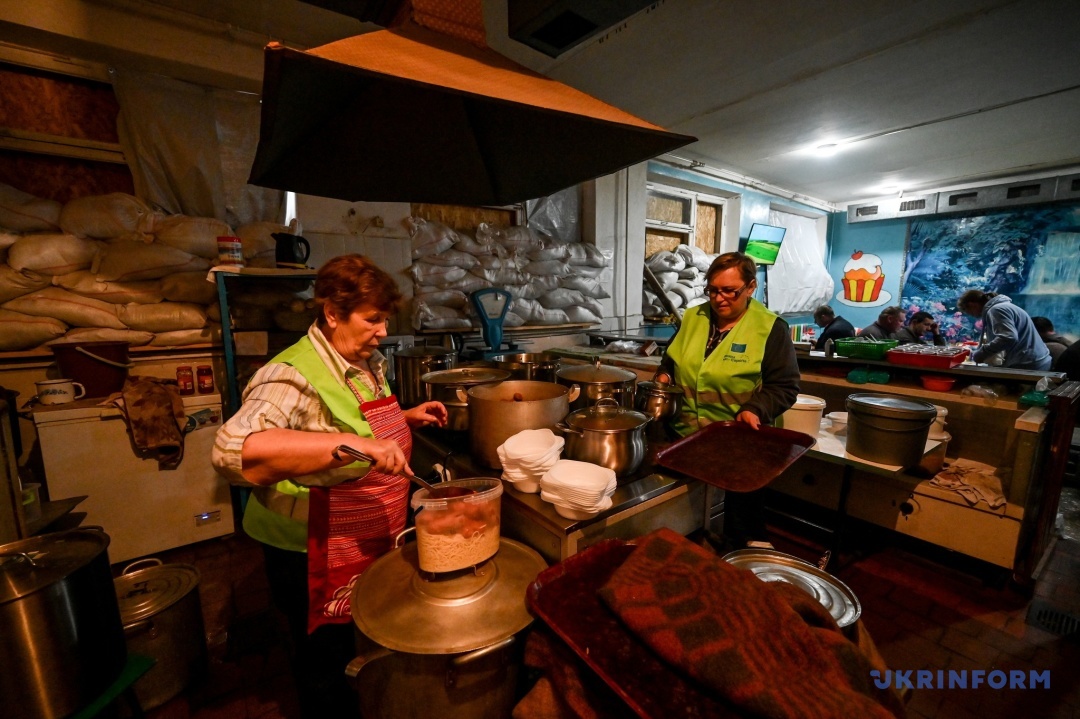 Easter cakes will be baked at the Point, while bread and pies are already being baked.
As it turned out, volunteers from Marhanets, who made the well, recently donated a stove.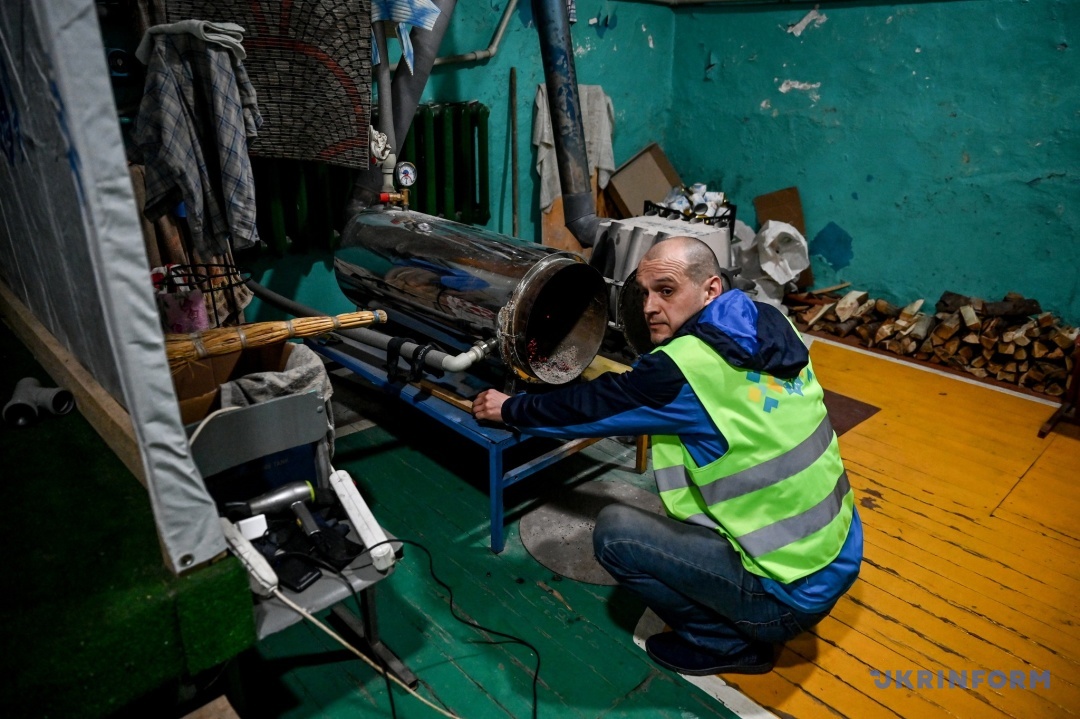 "They said that they would give it as a gift on the condition that it will not just stand there but work. Yesterday [April 11], the first batch was baked. People bring raisins, recipes, we will bake. The main goal is to unite women and men who stay here so that people are busy with something and get joy from having done something," the woman notes.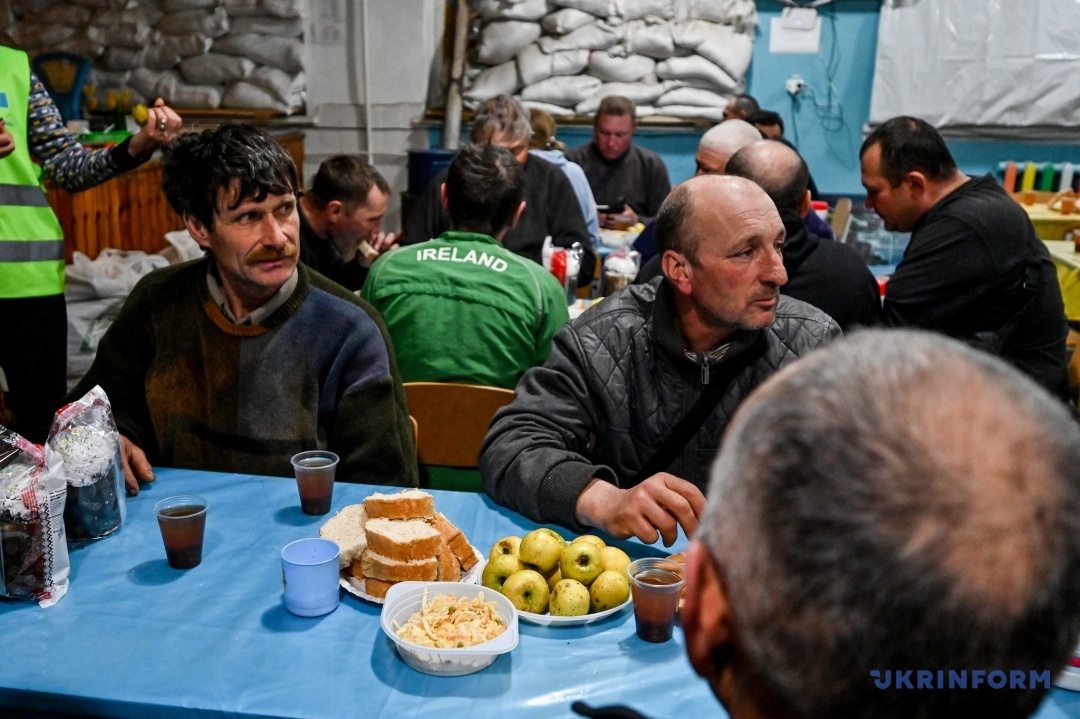 The woman shows a loaf of bread, which has been just baked in the new oven. We try it, it's very tasty.
BREAD MISSION AND AIRCRAFT TRIAL
The State Emergency Service says that almost 52 tonnes of bread, 70 tonnes of drinking water, and more than 4,000 tonnes of technical water have been delivered to various settlements located on the contact line since the beginning of the full-scale invasion.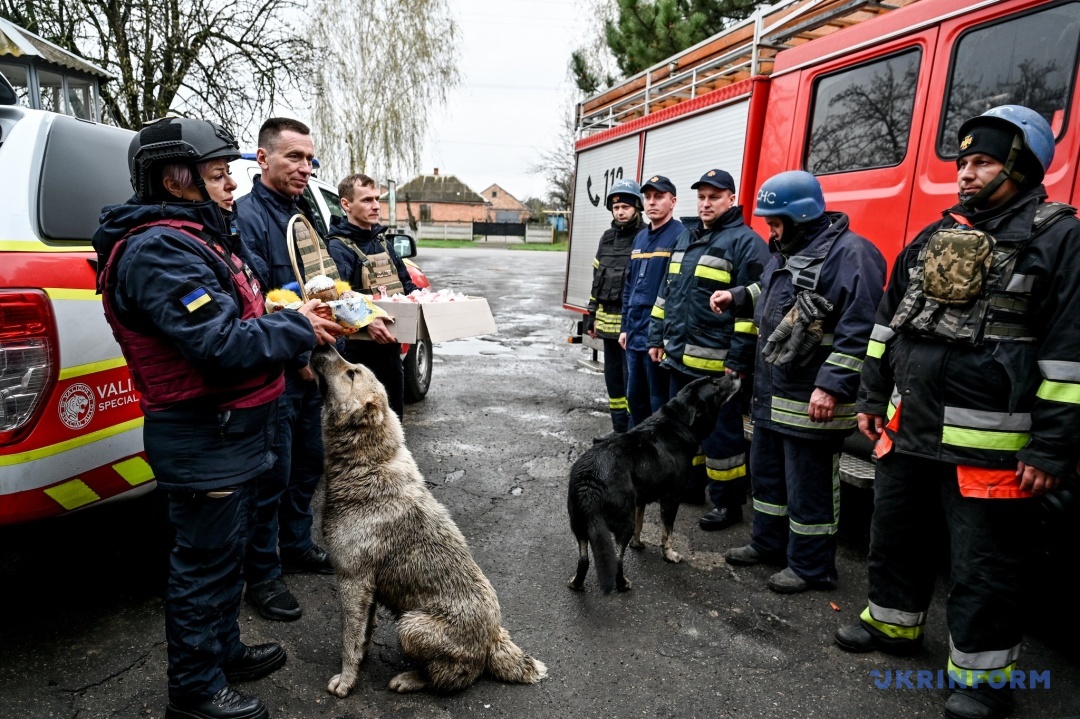 "Many volunteers and bread producers join the charitable mission of delivering bread to the 'grey' zone and towns that come under fire every day. Today, the Urozhay bakery provided bread that we brought to Orikhiv. The rescuers, so to speak, motivated people to fight for victory," says Yuliya Barysheva, spokesperson for the Zaporizhzhia Region Department of the State Emergency Service of Ukraine.
Rescuers who live and work in Orikhiv admit that the occupiers shell the town very aggressively.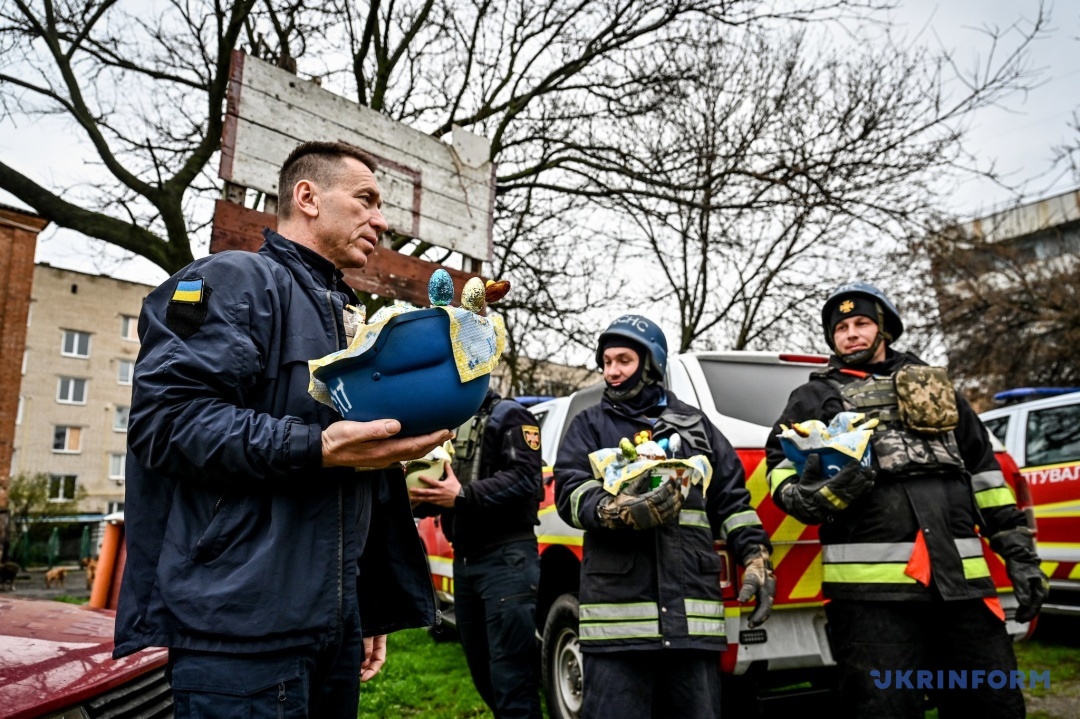 "It happens that we go out 10 times a day. No one knows what will happen in half an hour. The shelling has become more frequent; if we are already got used to Grad MLRS and artillery, we have not got used yet to the guided aerial bombs," says Major Petro Maliovanyi, a representative of the Civil Protection Service.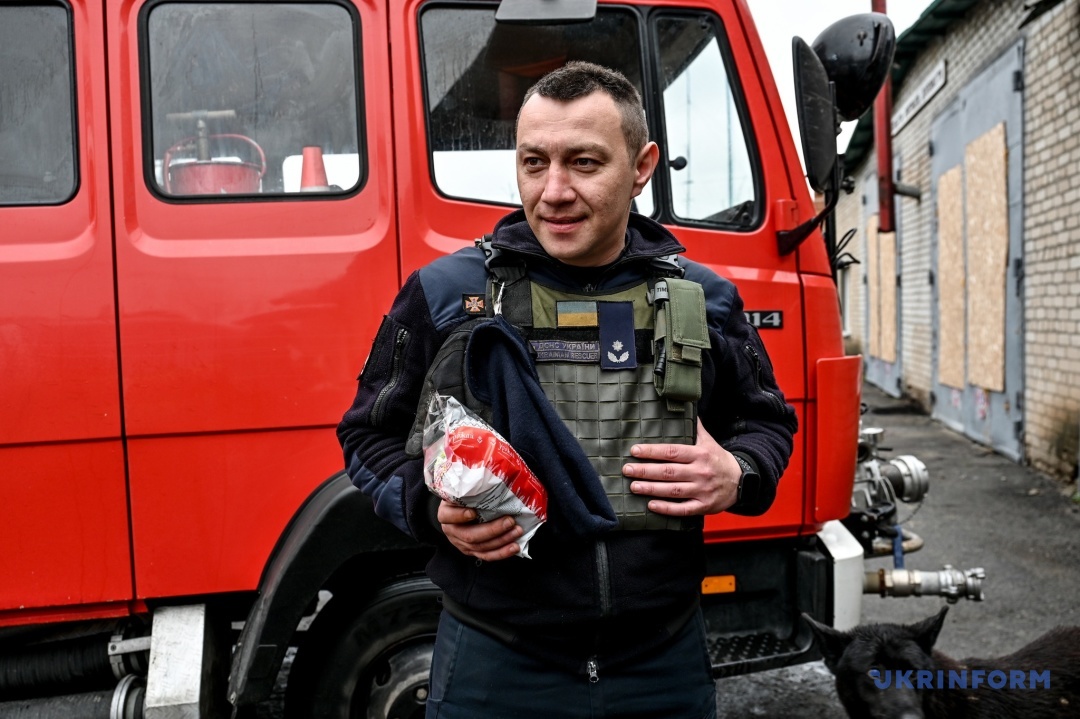 Petro Maliovanyi
According to him, the consequences of airstrikes are tremendous: a shell crater reaches up to 10 meters, all the houses near the struck area have no windows and roofs. Despite this, about 1,000 people remain in Orikhiv which the locals call a "tough nut to crack" among themselves. Before the war, about 19,000 people lived in Orikhiv community.
Olha Zvonariova
Photos: Dmytro Smolyenko