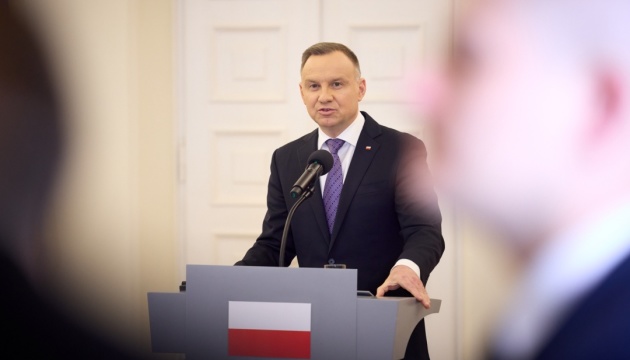 Duda: Poland provides military aid to Ukraine worth almost €3B
Poland's military assistance to Ukraine is currently estimated at about EUR 3 billion.
This was stated by Polish leader Andrzej Duda at a joint press conference in Vienna with Austrian President Alexander van der Bellen, an Ukrinform correspondent reports.
The Polish President noted that Poland is now transferring MiG-29 aircraft to Ukraine from its arsenal. He expressed satisfaction with the fact that Austria supports the decision to transfer to Ukraine's defenders the aircraft Warsaw once received from Germany.
The Polish leader emphasized that Poland is transferring various types of weapons to Ukraine, starting with Krab self-propelled guns and Piorun man-portable air-defense systems, to enable Ukraine's defenders to effectively repel Russian war of aggression. This assistance, given Poland's capabilities, is enormous. It currently amounts to about EUR 3 billion.
He stressed that Warsaw understands if Russian war of aggression is not stopped, it will pose a threat to Poland and Eastern Europe in the future.
Duda stated that today Ukrainians are actually defending Europe, defending Poland as well. Therefore, he considers it natural to provide military support to Ukraine.
He thanked Austria, as a neutral country, for donating to Kyiv bulletproof vests and helmets, which save lives of Ukrainian soldiers at the front line.
Poland's President stressed that he urges Austria to send more such aid to Ukraine, as the need is enormous.
He noted that he also discussed with the Austrian president the issue of expanding sanctions against Russia and making its trade with the West as difficult as possible.
Duda said that Poland has become 100% energy independent from Russia and is helping other neighbors to do the same.
According to the Polish leader, to restore international order in the world, Ukraine must regain control over the territories seized by Russia, and Russia must withdraw its troops from Ukraine.
If this does not happen, then even if this war ends through a ceasefire, some kind of peace will come, but unfortunately, it will be very short. Russia will only rebuild its military potential, which has been greatly weakened recently, regain its strength, and probably launch another offensive, Duda pointed out.
Therefore, he called it the duty of the free world to stop Russian war of aggression and force Russia to withdraw its troops from Ukraine. In his opinion, this will be the key to peace in Europe for decades to come.
Duda noted that the Polish people are so active in helping Ukrainians because they remember well what the Russian and Soviet occupation was like. He recalled that in Katyn in 1940, Russians killed more than 20,000 Polish citizens.
The events in Bucha showed that Russians have not changed much. They continue to shoot people in the back of their heads with their hands tied, the President of Poland stated.
He added that everything possible should be done to prevent this from happening again. Those responsible for the murders of Ukrainians should be punished.
As Ukrinform reported, on April 13, the German government approved Poland's application to export MiG-29 fighters from the former German Democratic Republic to Ukraine.
Earlier, Poland has already handed over eight MiG-29 aircraft to Ukraine.