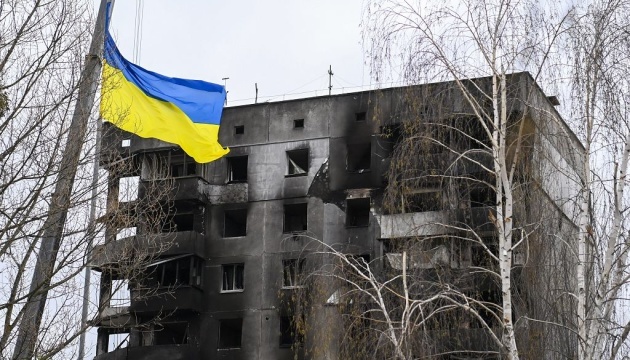 Anniversary of Kyiv region's liberation: 15 communities used to be under Russian occupation
The Kyiv region's liberation from Russian invaders has become a symbol of Ukraine's ability to win the war unleashed by Russia.
The relevant statement was made by Kyiv Regional Military Administration on Telegram, having posted a video dedicated to the anniversary of the Kyiv region's liberation, an Ukrinform correspondent reports.
"Our settlements have become the Cities of Heroes – the cities of specific people who showed courage, helped each other and the state to endure. The Kyiv region's liberation became a symbol of Ukraine's ability to win this war. By winning the battle for Kyiv, we have won the battle for Ukraine as an independent sovereign state," the report states.
The Kyiv region was among the first to have taken the brunt of Russian invaders. The enemy was advancing towards the capital from the north, bringing death and destruction.
In the Kyiv region, hostilities had been lasting over a month. Fifteen communities in the Vyshhorod, Bucha and Brovary districts were seized by Russian troops.
However, Ukraine's Defense Forces gave a decent rebuff to the enemy. On April 2, 2022, the Kyiv region was liberated from Russian invaders.
"We will always remember the heroic resistance of the Armed Forces of Ukraine, the Territorial Defense members, and local residents, who stood side by side with the military to defend the state. We will never forget the feat of the Heroes who laid down their lives for freedom and independence," Kyiv Regional Military Administration stressed.
A reminder that, according to the National Police of Ukraine, Russian occupiers killed 1,374 Ukrainians in the Kyiv region, including 38 children. A total of 280 people are still considered missing.
Photo: twitter.com/gitanasnauseda