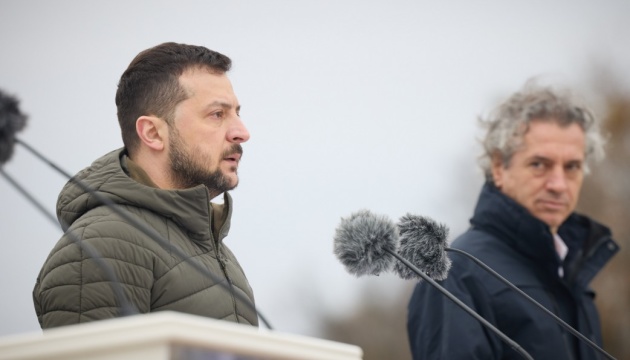 Zelensky: There should be three elements in Russia's full accountability
The national justice of Ukraine, the International Criminal Court and special tribunals will ensure the full accountability of Russia as an aggressor state.
President of Ukraine Volodymyr Zelensky stated this in his address to the participants of the Bucha summit, Ukrinform reports with reference to the president's Telegram channel.
"There should be three elements in Russia's full accountability. The first is the national justice of Ukraine, which will ensure the accountability of the majority of Russian murderers and terrorists. The second is the International Criminal Court, which is capable of prosecuting Russian war criminals of various levels within its jurisdiction. And the third mandatory element is a special tribunal; the mandatory element – we emphasize for certain countries and certain leaders who have a different opinion – the special tribunal for the crime of Russian aggression against Ukraine, which will bring to justice those guilty of the primary crime – the crime of aggression, the crime that made possible all other crimes of this Russia's unprovoked war against Ukraine," Zelensky said.
Zelensky stressed that justice is the foundation of peace. Justice, according to him, is also the foundation of the Ukrainian Peace Formula.
"The formal norms of international law, in our opinion, will not work without fully ensured justice," the President said.
At the same time, he thanked everyone who does not compromise on the issue of justice. Zelensky reminded said that only in Bucha district, Kyiv region, the Russian occupiers committed more than 9,000 war crimes, killed more than 1,400 civilians, and 637 of them, including 37 children, in Bucha.
"The world needs an effective mechanism for punishing those guilty of the primary crime of aggression – the crime that opens the door to all the evils of such war. Everyone who does not want this to happen again should work together with Ukraine to create a special tribunal for the Russian crime of aggression, to create a compensation mechanism to recover all losses caused by Russia's aggression, from their [Russia's] assets. Full accountability is what teaches an aggressor to live in peace," the President emphasized.
As reported, the Bucha summit was held in Kyiv on March 3. According to President Volodymyr Zelensky, almost 50 foreign countries and organizations joined the event.