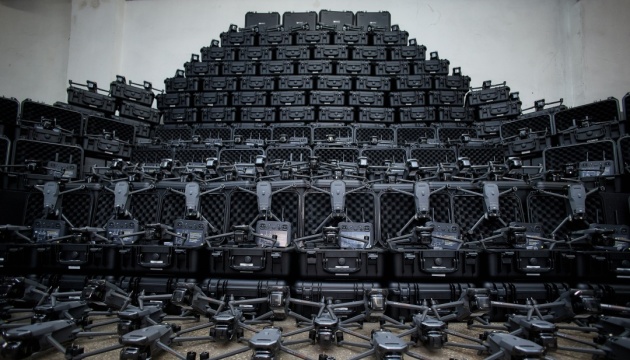 Army of Drones: 300 Mavic 3T UAVs delivered to hottest frontline spots in Ukraine
The Ministry of Digital Transformation handed over to the Ukrainian military a batch of 300 DJI Mavic 3T unmanned aerial vehicles to be used on the battlefield.
This is reported by Ukrinform with reference to the ministry's press service.
"We sent 160 copters to the east, 85 – to Zaporizhia, and another 55 – to Kherson. The drones were acquired thanks to the joint fundraising effort by monobank, Oleh Horokhovskyi, and Ihor Lachenkov for the Army of Drones project within the framework of the UNITED24 initiative. In just three days, they managed to raise almost UAH 61 million," the report says.
It is noted that each DJI Mavic 3T is equipped with a thermal imager and a zoom camera, which allows operators to fly reconnaissance missions even during the night hours. Also, thanks to these drones, the military can spot artillery fire and destroy Russian equipment. Thus, drones allow Ukraine's troops "to know everything about the enemy."
Deputy Prime Minister for Innovation, Development of Education, Science and Technology - Minister of Digital Transformation Mykhailo Fedorov noted that drones have already proven effective on the battlefield. Most importantly, he noted, they save the lives of Ukrainian soldiers. The Army of Drones project grew into a major government program to support UAV manufacturing in Ukraine.
"Together with the Ministry of Defense, General Staff, and government team, we approach this issue systemically. We facilitate certain processes, get rid of bureaucracy, and help provide the Armed Forces with drones. All so that there are hundreds of times more drones at the front lines because the courage of Ukrainians together with technology will be key to victory," Fedorov added.
As reported, the Ministry of Digital Transformation within the framework of the Army of Drones project, together with its partners, has already provided the necessary equipment to the first three UAV strike companies, whose soldiers have successfully completed training.
A total of 3,201 drones have been purchased since the launch of the Army of Drones initiative nine months ago. In total, contracts worth over UAH 4 billion have been concluded.