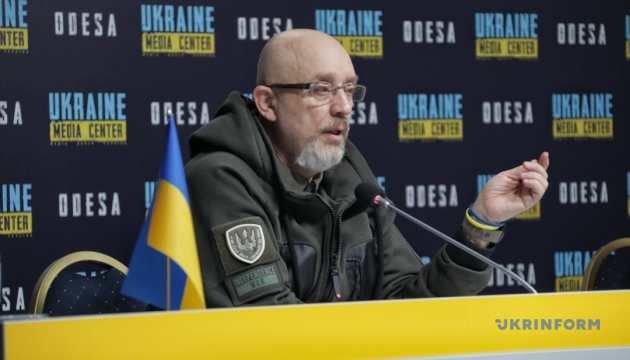 Ukraine's counteroffensive to be launched without new warplanes - Reznikov
For the counteroffensive, the Armed Forces will use the weapons that are already available, not awaiting the delivery of combat aircraft from foreign partners.
Ukrainian Defense Minister Oleksii Reznikov stated this during a briefing at the Odesa Media Center, Ukrinform reports.
"For any counteroffensive, of course, dominance in the air is important, but we will be using the weapons we already have at the moment. These are weapons left over from Soviet times and those already provided and being provided by partners. These are not only tanks, but also armored vehicles of various types, on which our crews is currently training in Europe," said Reznikov.
The minister that for Ukraine, combat aircraft are, first of all, a missing effective element of the country's air defense capability.
"It's a matter of time before we receive a modern fourth-generation combat aircraft, I have no doubt about that," the defense minister emphasized.
According to Reznikov, in addition to the time for the partners to make a decision on the transfer of fighter jets, it will also take time to train pilots and engineers who will service the equipment.
"Therefore, I believe that the acquisition of combat aircraft and the option of our nearest counteroffensive will be separated in time," Oleksii Reznikov concluded.
As reported earlier, the Ministry of Defense officially confirmed that British Challenger 2 tanks had arrived in Ukraine.