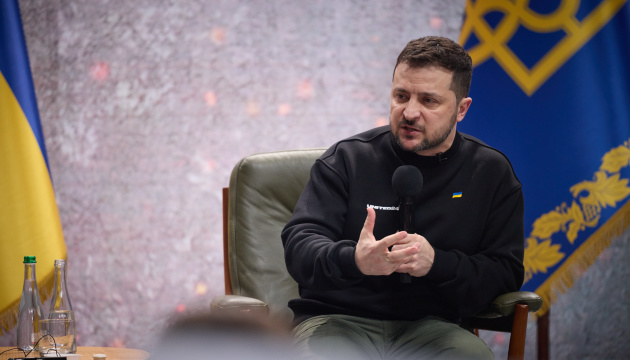 Zelensky explains importance of winning battle for Bakhmut
The defense of the eastern Ukrainian city of Bakhmut is important for Ukraine from a military and political point of view because the loss of the city may lead to political pressure and the search for unacceptable compromises with the Russian aggressor.
Ukrainian President Volodymyr Zelensky said this in an exclusive interview with The Associated Press, according to Ukrinform.
He said if Bakhmut fell to Russian forces, their president, Vladimir Putin, would "sell this victory to the West, to his society, to China, to Iran."
"If he [Putin] will feel some blood — smell that we are weak — he will push, push, push," Zelensky added.
While some Western military analysts have suggested that the city is not of significant strategic importance, Zelensky warned that a loss anywhere at this stage in the war could put Ukraine's hard-fought momentum at risk.
Zelensky predicted that the pressure from a defeat in Bakhmut would come quickly — both from the international community and within his own country.
"Our society will feel tired. Our society will push me to have compromise with them," he said.
So far, Zelensky said he had not felt that pressure.
"We can't lose the steps because the war is a pie — pieces of victories. Small victories, small steps," he added.
The General Staff of the Ukrainian Armed Forces said earlier that the settlements of Bilohorivka, Bakhmut, Avdiivka and Marinka remain at the epicenter of hostilities.