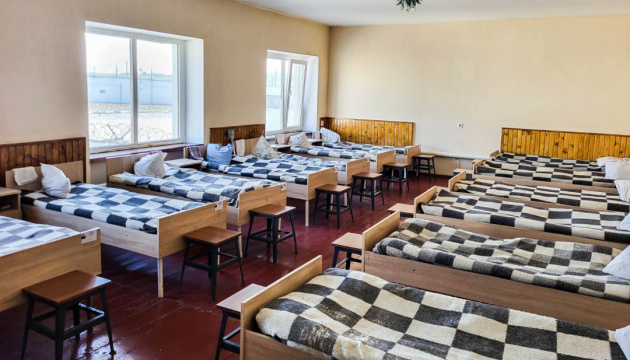 Ombudsperson: Ukraine abides by Geneva Convention in treating Russian POWs
In Ukraine, Russian prisoners are held in accordance with the requirements of the Geneva Convention on the Treatment of Prisoners of War.
That's according to Ukraine's Ombudsperson Dmytro Lubinets, Ukrinform reports.
In response to the report on the treatment of POWs, published by the UN Human Rights Monitoring Mission in Ukraine, he reported on the outcome of the recent monitoring visit of the Ombudsman's Office to a POW camp.
According to Lubinets, during the visit, the conditions of holding Russian servicemen, their food, availability of medical care and observance of other rights guaranteed by the Geneva Conventions were checked.
"It was established that Russian POWs are being held in accordance with the requirements of the Geneva Convention on the Treatment of Prisoners of War. The temperature regime in the premises and their daily routine meet all the requirements of the Convention. POWs are allowed to reach out families through periodic (alternating) phone calls, and they are also allowed to work. Food is provided according to the combined military nomenclature of products," the ombudsman said.
He also noted the high level of medical treatment available to POWs: "The medical department has a dentist's office, an x-ray and ultrasound machines. And in their free time, prisoners of war are allowed to watch the news or play football on the camp territory."
Lubinets noted that journalists representing foreign media have free access to the camp in agreement with the Ministry of Justice.
"In particular, TF1 (France) was working there during the monitoring visit. The journalists even tried the food consumed by Russian prisoners of war. Representatives of the UN, ICRC, and other foreign journalists were also in the camp," the ombudsman noted.
As Lubinets noted, "unfortunately, the mentioned UN report posted information about the negative aspects of holding Russian soldiers in captivity, but the positive facts, at least about phone calls to families, were not outlined at all. After all, Ukrainian prisoners are not even provided with such a right and for a long time have not had an opportunity to communicate with their relatives."
The commissioner emphasized that Ukraine adheres to the Geneva Conventions, international law, and is open to international organizations. He also called on the world and international organizations to help Ukraine in the issue of gaining access to the sites where Ukrainian POWs are held.
As reported by Ukrinform, the UN Human Rights Monitoring Mission in Ukraine presented two reports - on the treatment of prisoners of war and the general situation of human rights in Ukraine over the six months until January 31, 2023.