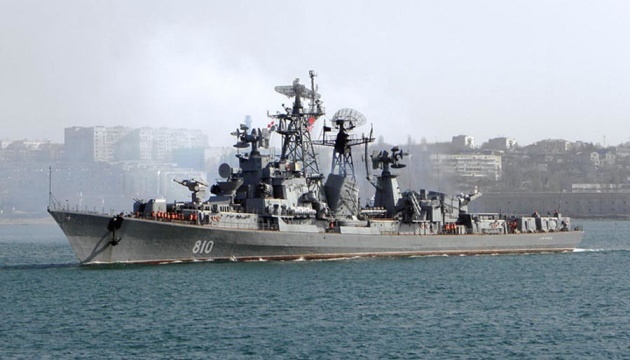 Russia keeps six warships, submarine off Crimea coast
The Russian invasion forces have deployed six warships and a submarine with four Kalibr cruise missiles on combat duty in the Black Sea.
That's according to Operational Command South, Ukrinform reports.
"In the Black Sea, we are observing seven enemy vessels, including a submarine carrying guided missile weapons (up to 4 Kalibr sea-based cruise missiles). Therefore, the threat of missile strikes remains in place, although it is now somewhat lower," the Command press service wrote on Facebook.
It is also noted that stormy weather increases the level of the mine threat. So, since year-start, the streams brought about 20 mines to the coastal zone of Odesa and Mykolaiv regions, as well as Georgia. The vast majority of them were neutralized by our Defense Forces but nearly 20% detonated on their own, causing destruction. According to the press service, no casualties were reported in those incidents this year.
As Ukrinform reported earlier, on March 27, the storm brought another naval mine toward one of the beaches in Odesa region.
Photo: BlackSeaNews