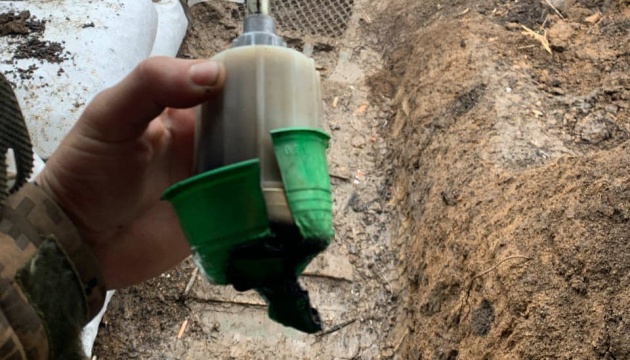 Russians use chemical munitions on Donetsk axis - military spox
Russian occupation forces started using chemical munitions in the Donetsk direction.
That's according to Oleksiy Dmytrashkivskyi, head of the joint press center of Ukraine's Tavria Defense Forces, who spoke at the national telethon, Ukrinform reports.
"The enemy uses chemical munitions, dropping explosives containing chloropicrin from unmanned aerial vehicles. And this is not the first day that this is happening, it has been going on since Mar 23. Then it was a trial of such an option – one such explosive was dropped. Then, on March 24, it was two, and yesterday, six were dropped," said Dmytrashkivskyi.
Answering the question of whether Ukraine is collecting evidence of the use of internationally proscribed munitions by the Russians, the spokesman said that at the moment "we have a drone that was downed in the Zaporizhia direction, these were the first attempts, nearly a month ago, then we have a K-51 unexploded ordnance."
"At the moment, it is impossible to collect gas after the explosions taking place in the Donetsk direction, but if it lands directly in a trench or a dugout, then people need to either put on a gas mask or get out of there because it causes both vomiting and tear rush. But there is also mustard gas. Then chemical protection suits are required," the spokesman noted.
Dmytroshkivskyi also reported that the Defense Forces were inflicting heavy losses on the enemy. In particular, in the area of Avdiivka and Maryinka, Russia's 200th motorized rifle brigade and the 72nd brigade from Orenburg sustained heavy losses, so their withdrawal for recovery is now on the table.
As Ukrinform reported earlier, on December 9, 2022, the EU statement released during the meeting of the OSCE Permanent Council on Thursday in Vienna stated that the European Union was stunned by the use of gas grenades by Russian troops against Ukrainian servicemen.
Earlier, the State Border Guard Service of Ukraine reported that the Russian occupiers were using banned chemical weapons – K-51 aerosol grenades. Russians dropped several such grenades from a drone on Ukrainian defenders in Donetsk region. One of them did not set off so its photo was showcased by the agency.
Photo: State Border Guard Service of Ukraine