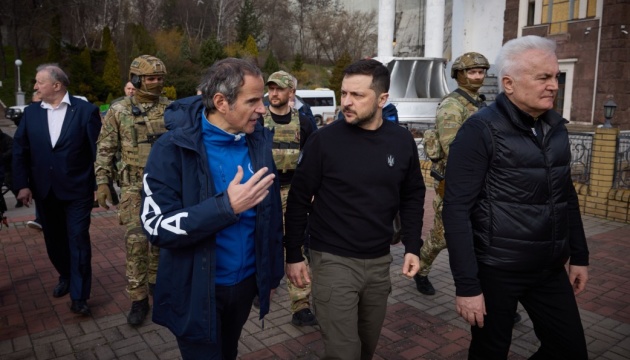 Zelensky, IAEA's Grossi visit Dnipro HPP
During a working trip to the Zaporizhia region, President Volodymyr Zelensky of Ukraine held a meeting with Director General of the International Atomic Energy Agency (IAEA) Rafael Grossi.
That's according to Zelensky's press service, Ukrinform reports.
The meeting took place on the territory of the Dnipro Hydroelectric Power Plant. Volodymyr Zelensky and Rafael Grossi saw the aftermath of Russia's missile strikes on the critical infrastructure facility, where certain buildings and energy equipment were significantly damaged.
The president and the IAEA chief were briefed on the measures taken to protect the Dnipro HPP in case of new attacks by the Russian aggressor, as well as about the course of emergency restoration of the facility.
The interlocutors discussed in detail the situation at the Zaporizhia NPP. The Head of State thanked the Director General of the IAEA for his support in issues related to guaranteeing the security of nuclear energy facilities in Ukraine.
"Your role in ensuring Ukraine's energy security is extremely important today," Volodymyr Zelensky emphasized.
The Head of State drew the attention of the Director General of the IAEA to the constant pressure that the staff of the Zaporizhzhia nuclear power plant is facing due to the Russian occupiers. He separately focused on the forcible passportization of Ukrainian workers by the Russian occupation forces, as well as their non-compliance with safety rules at the ZNPP and illegal interference in the technological process of the plant's operation.
The President emphasized the importance of ensuring the permanent presence of IAEA representatives at the temporarily occupied Zaporizhzhia NPP and noted that this is important for guaranteeing nuclear security.
Volodymyr Zelensky highly appreciated Rafael Grossi's willingness to personally lead a rotating group of experts at the ZNPP.
At the same time, the President underscored the primary importance of liberating the station from the occupiers and restoring full control of the Ukrainian side over the facility.
"Without the immediate withdrawal of Russian troops and personnel from the ZNPP and adjacent territories, any initiatives to restore nuclear safety and security are doomed to failure," the Head of State emphasized.