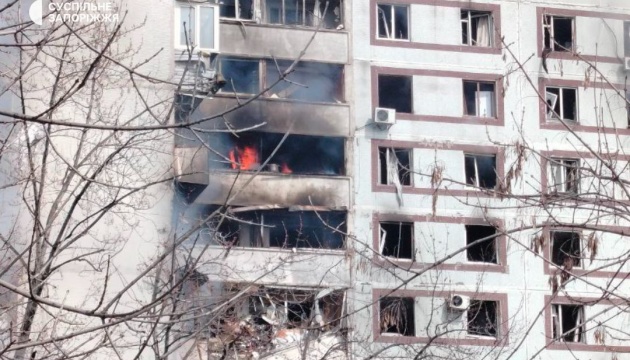 Russian missile hits nine-story apartment block in Zaporizhzhia
President Volodymyr Zelensky has stated that Russia is shelling Zaporizhzhia with bestial savagery, hitting residential areas.
"Zaporizhzhia. Right now, a Russian missile hit a multi-storey building. Russia is shelling the city with bestial savagery. Residential areas where ordinary people and children live are being fired at. The terrorist state seeks to destroy our cities, our state, our people," the President posted on Facebook.
He underscored that this must not become "just 'another day' in Ukraine or anywhere else in Europe or the world."
"The world needs greater unity and determination to defeat Russian terror faster and protect lives," Zelensky stressed.
The Head of State published a video showing a Russian missile hitting an apartment block in Zaporizhzhia.
On March 22, the enemy shelled residential buildings in Zaporizhzhia city and Khortytsia Island in Zaporizhzhia region.
Video: Volodymyr Zelensky, Facebook
Photo: Suspilne Zaporizhzhia