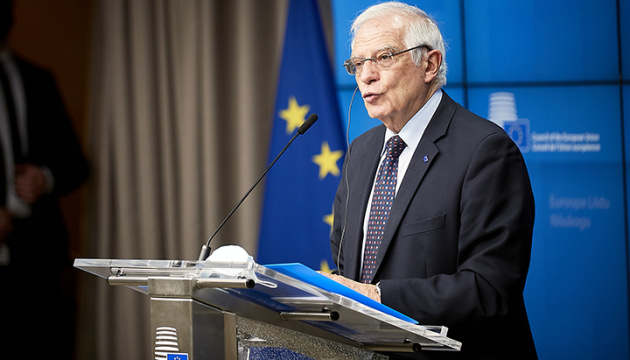 Borrell about ICC arrest warrant for Putin: This is a game changer
The International Criminal Court (ICC) decision to issue an arrest warrant for Russian President Vladimir Putin for crimes committed during the Russian aggression against Ukraine is very important and is a game changer.
EU High Representative for Foreign Affairs and Security Policy Josep Borrell said this before a meeting of EU foreign and defense ministers, an Ukrinform correspondent reports.
Borrell noted that two important things happened with respect to the war in Ukraine - the first one which is the extension of the Black Sea Grain agreement.
"The second [thing which is] also important is the International Criminal Court (ICC) decision with respect to President Putin, which is very important and is a game changer. I know that Russian authorities are dismissing this decision from the International Criminal Court saying "Well, in the end, Russia is not a signatory of this treaty." Let's look at the practical consequences of that [decision]. If President Putin travels to one of the more than 130 countries who have signed this international treaty, he should be immediately arrested," Borrell stated.
He stressed that this is something that should be taken very much into consideration.
"We can negotiate whatever we want, but this decision of the Court remains valid. It is there. President Putin will be arrested if he travels to more than 130 countries," the EU High Representative said.
As reported by Ukrinform, on March 17, the International Criminal Court (ICC) issued warrants for the arrest of Russian President Vladimir Putin and Children's Commissioner Maria Lvova-Belova. They are suspected of war crimes – illegal deportation and relocation of the population, including children, from the occupied territory of Ukraine.