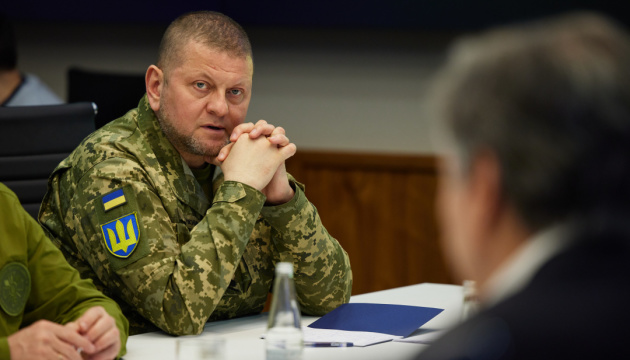 U.S., Ukraine officials discuss situation at front - White House
U.S. National Security Advisor Jake Sullivan, Secretary of Defense Lloyd J. Austin III, and Chairman of the Joint Chiefs of Staff General Mark A. Milley spoke on the phone with Head of the Office of the President of Ukraine Andriy Yermak, Minister of Defence Oleksii Reznikov, and Commander-in-Chief of the Ukrainian Armed Forces General Valerii Zaluzhnyi to discuss steadfast U.S. support for Ukraine's armed forces as they defend themselves against Russian invasion.
This is said in a statement issued by the White House following the phone call on Friday, Ukrinform reports.
"At the meeting, representatives of Ukraine informed the allies in detail about the current situation at the front, combat operations in the most difficult directions, as well as the urgent needs of the Ukrainian army. The parties discussed the continuation of the provision of necessary assistance to Ukraine, in particular equipment, weapons and ammunition," the Ukrainian President's Office said.
It is noted that the U.S. officials reaffirmed the unwavering support of the United States for Ukraine as defends its sovereignty and territorial integrity.
According to the Ukrainian President's Office, the meeting was also attended by Ukrainian First Deputy Defense Minister Oleksandr Pavliuk, Commander of the Ground Forces of the Armed Forces of Ukraine, Commander of the Khortytsia Operational Strategic Group Oleksandr Syrskyi, Commander of the Tavria Operational Strategic Group Oleksandr Tarnavskyi, Commander of the Air Forces of the Armed Forces of Ukraine Mykola Oleshchuk, and Deputy Head of the Office of the President of Ukraine Roman Mashovets.
At the end of the meeting, President of Ukraine Volodymyr Zelensky joined the conversation. He shared with all attendees his thoughts on the liberation of Ukrainian territories from the Russian occupiers.
The representatives of Ukraine thanked the U.S. authorities and the American people for the comprehensive and powerful support of Ukraine in the fight for freedom and the return of peace in Europe.