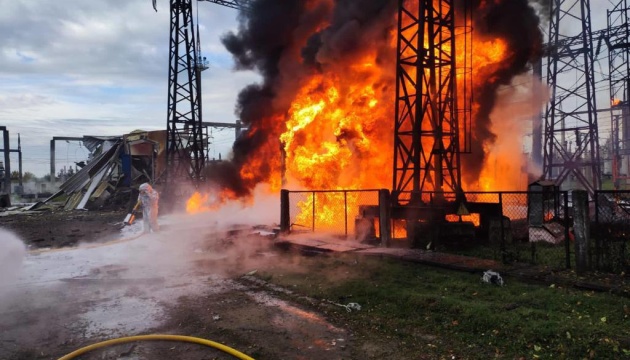 UN Commission: Russian attacks on Ukraine's energy infrastructure may amount to crimes against humanity
Russian attacks on Ukraine's energy infrastructure may amount to crimes against humanity.
The relevant statement was made by the Independent International Commission of Inquiry on Ukraine (UN Commission), an Ukrinform correspondent reports.
"The Commission is grateful for the access and written responses to its queries received from Ukrainian officials. It regrets that its attempts to establish meaningful communication with the Russian Federation have been unsuccessful, as its notes verbales and letters have remained unanswered. A Russian governmental institution has referred material to the Commission, which it has examined," the report states.
According to the UN Commission, Russian authorities have committed a wide range of violations of international human rights law and international humanitarian law in various regions of Ukraine, many of which amount to war crimes, including attacks on civilians and energy-related infrastructure, wilful killings, unlawful confinement, torture, rape and other sexual violence, as well as unlawful transfers and deportations of children.
Russian armed forces carried out attacks with explosive weapons in populated areas with an apparent disregard for civilian harm and suffering, failing to take the required precautions. The attacks were indiscriminate and disproportionate, in violation of international humanitarian law.
Additionally, the waves of attacks by Russian armed forces on Ukraine's energy-related infrastructure from 10 October 2022 may amount to crimes against humanity.
The UN Commission found reasonable grounds to conclude that the invasion and Russian armed forces' attacks against Ukraine's territory and armed forces qualify as acts of aggression against Ukraine.
For the report, the UN Commission visited 56 localities and interviewed 348 women and 247 men. Its investigators inspected sites of destruction, graves, places of detention and torture, as well as weapon remnants, and consulted a large number of documents and reports.
In all the cases examined, the UN Commission sought to identify individual perpetrators of violations and crimes, the units deployed in the concerned areas, and their chain of command. The UN Commission developed a separate list of identified perpetrators and military units responsible for crimes and violations. The list itself was not included in the report.
Photo: t.me/V_Zelenskiy_official