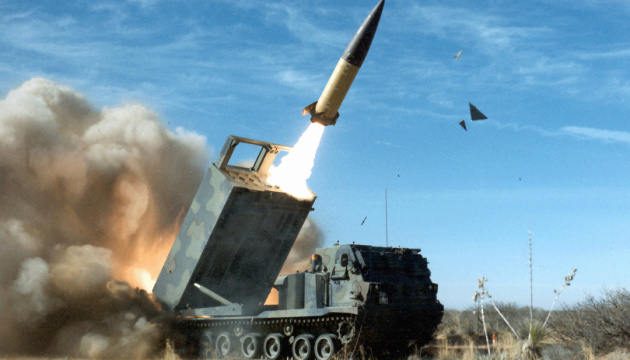 ATACMS to require no additional training for Ukrainians – CinC's special advisor Rice
The United States has to make two more decisions for Ukraine to win the war with Russia – that is, on the supply of F-16 fighter jets and ATACMS.
This was stated by Daniel Rice, Special Advisor to the Commander-in-Chief of the Armed Forces of Ukraine, Valeriy Zaluzhnyi, who spoke with journalists on the occasion of his appointment as President of the American University of Kyiv, answering questions from an Ukrinform correspondent.
"ATACMS is a political decision that has not yet been agreed on yet. My opinion is it should've happened last summer. You don't fight a war to tie. You fight to win. This weapon could help deoccupy those territories," he said.
Rice expressed hope that the decision would eventually be made, and explained that it would only take two days: "It's just the pod on HIMARS, it's just different. It's one rocket instead of six. So that doesn't require any additional training. It's just basically a quick replacement." According to Zaluzhnyi's special advisor, long-range rockets would allow to cut off Crimea from Russia and destroy the Russian military contingent on the peninsula.
"What we have left with is F-16s and ATAMS. I think those are the two biggest decisions remaining and if we do that, I think we arm Ukraine with enough to win," Rice concluded.
He also responded to criticism of such a decision suggesting that the transfer of longer-range rockets to Ukraine would result in Iranian sending ballistic missiles to Russia. According to the adviser, the Russians will get everything they want from Iran in any case.
"We can't make judgments – in my opinion – based on what we think Putin will do. He's all in already, so we just have to kill Russians," said the American veteran.
As reported earlier, on February 19, the Commander-in-Chief of NATO forces in Europe, US General Christopher Cavoli, said that providing Ukraine with advanced Western weaponry, including F-16 fighter jets, unmanned aerial vehicles, and long-range capabilities, would allow the nation to defeat Russia.