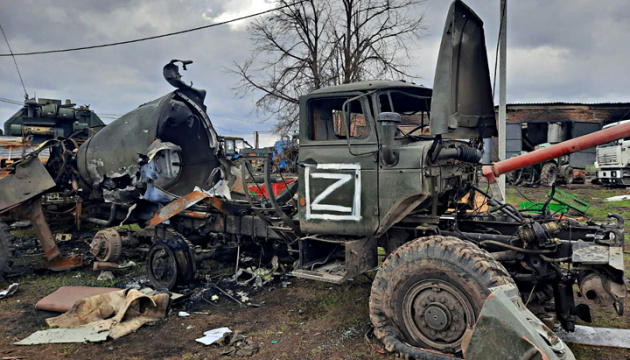 Some 20-30,000 Russians killed and wounded around Bakhmut
Since May of last year, in the battles of Bakhmut, up to 30,000 servicemen with Russia's regular army and mercenaries with the Wagner Group have been killed and wounded.
That's according to Ian Stubbs, a senior military advisor who is part of Britain's delegation to the OSCE, who spoke at the Security Cooperation Forum in Vienna on Wednesday, an Ukrinform correspondent reports.
"Over the past week, we have seen intensive combat as Russia continues its grinding offensive in the Donbas. Russia is suffering extremely heavy casualty rates. Since May last year, between 20 – 30,000 Wagner and regular Russian forces have been killed and wounded in the area around Bakhmut alone – a huge loss of human life for a total territorial advance of approximately just 25km," he said.
According to a British military diplomat, that's "over 800 Russian personnel killed or wounded for each kilometer gained, the vast majority of them Wagner fighters."
He added that in the face of these losses, Wagner Group owner Yevgeny Prigozhin "is finding it increasingly difficult to resupply what he has termed the 'meat grinder' in eastern Ukraine."
Separately, Ian Stubbs pointed out that Russia also seems to be running out of missiles, as evidenced by the longer interval between Russian strikes on critical infrastructure across Ukraine.
According to the official, the Russian military supply issues "are just as acute at the front line." "Russia has suffered huge heavy armored vehicle losses forcing it to deploy 60-year-old T-62 main battle tanks onto the frontline. Since summer 2022, approximately 800 antiquated T-62s have been taken out from storage. More recently, Russian BTR-50 armored personnel carriers have also been deployed in Ukraine, vintage vehicles which were first fielded into the Russian military in 1954," said the senior military adviser.
He added that in this regard, an "obvious question" arises: "why is Russia's much vaunted new generation of military hardware absent from the battlefield?"
"The truth is, Russia's over hyped new generation T14 Armata Main Battle Tank is proving a white elephant, barely capable of taking part in a parade let alone performing on the battlefields of Ukraine. And, the Russian air force has so little confidence in the Su57 5th generation multi-role aircraft that they dare not operate it over Ukraine," Stubbs said, replying to a question.
He emphasized that the Russian military command demonstrates a striking lack of military competence and squanders strategic resources to gain small tactical gains. "Everyone can see the truth. Russia's military and its defense industry are failing in Ukraine," the British diplomat emphasized.
As Ukrinform reported earlier, earlier the commander of the Ground Forces, Colonel-General Oleksandr Syrskyi, said Russian troops are unsuccessfully trying to besiege Bakhmut, Donetsk region, before attempting to advance deeper into Ukraine.