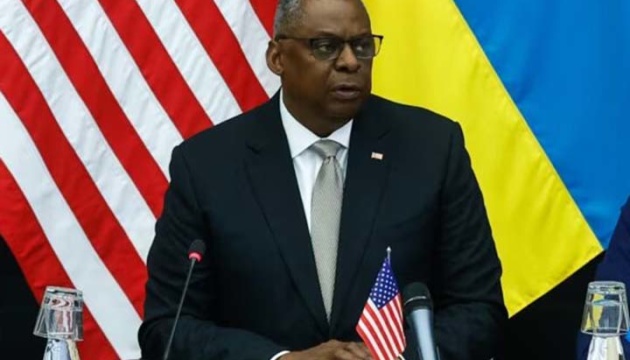 Leopard tanks, air defense components, NASAMS: Austin sums up 10th Ramstein format meeting
U.S. Secretary of Defense Lloyd J. Austin III commends the results of the 10th Ukraine Defense Contact Group meeting which brought together about 50 nations.
"We've just completed our 10th, highly successful meeting of Ukraine Defense Contact Group," Austin said during a press conference at the Pentagon following the discussions on Wednesday, an Ukrinform correspondent reports.
He emphasized that the allies and partners representing countries from all over the world "reaffirmed our unity and resolve in supporting Ukraine's fight for freedom."
Austin also praised the "clear message" from the Ukrainian defense minister for the next steps in resistance to Russian aggression, which, according to the Pentagon chief, underscores the "urgency" of international support for Ukraine.
"Ukraine doesn't have any time to waste. And I heard clearly today that our fellow Contact Group members also know that we have to deliver swiftly and fully on our promise commitments," the U.S. Secretary of Defense stressed.
According to him, that includes delivering armored capabilities to the battlefield and ensuring that Ukrainian soldiers get the training, spare parts and maintenance support for the delivered equipment.
"We will continue to dig deep for new donations, and today we heard updates on our progress and some significant new commitments," Austin noted.
In particular, Sweden announced that it would provide Ukraine with 10 Leopard tanks and key air defense components. Norway is partnering with the US to donate two NASAMS systems to Ukraine. The Netherlands initiates new contracts to ensure the delivery of new weapons to the battlefield in Ukraine. In addition, Slovenia announced a contribution that will help "meet several of Ukraine's priority requirements, including armor."
The Pentagon chief underscored that the donations have been crucial to Ukraine's fight for sovereignty. However, in his opinion, for Ukraine to be able to protect its sovereign territory and defend its citizens over the long term, these efforts must be continued.
Therefore, Austin continued, the international coalition will help Ukraine sustain the tanks, IFVs, and other armored vehicles, and continue training the Ukrainian military on new types of weapons.
As reported, the 10th meeting of the Ukraine Defense Contact Group in Ramstein format was held online on Wednesday.