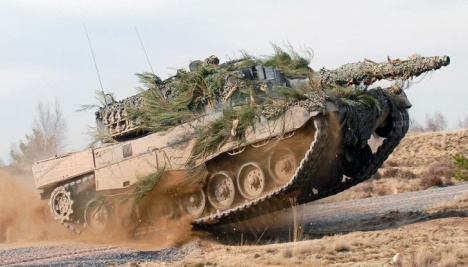 First Leopard 1 tanks to arrive in Ukraine this spring – Danish defense ministry
The first batch of Leopard 1 tanks as part of a Danish-German-Dutch cooperation project will be delivered to Ukraine this spring, according to a statement posted on the website of the Danish Defense Ministry.
Denmark's Acting Defense Minister Troels Lund Poulsen stated this after visiting Flensburger Fahrzeugbau Gesellschaft (FFG), a German company engaged in preparing Leopard 1 tanks for delivery to Ukraine, Ukrinform reports.
"I am very excited to have visited FFG. I was there to see that the work to prepare Leopard 1 tanks for Ukraine is progressing so that we can get them going as soon as possible. I am proud that Denmark, in cooperation with other countries, supports Ukraine's struggle for freedom with a large and important donation, and we still hope to be able to deliver the first tanks to Ukraine during the spring," he said.
The ministry recalled that the Danish government has entered into a collaboration with Germany and the Netherlands to donate at least 100 Leopard 1 tanks to Ukraine.
"Denmark launched the project to refurbish a large number of Leopard 1A5 tanks together with the Netherlands and Germany in early February. The first sub-goal of the project is to be able to deliver tanks to two battalions – corresponding to approximately 80 tanks – as quickly as possible. The first tanks are expected to be ready during the spring and will be used to train Ukrainian forces," the statement reads.
As part of the project, Ukraine will be offered education and training in the use of the tanks, as well as spare parts and an ammunition package.
Ukrinform reported earlier that Ukrainian tankers had already completed training on Leopard 2 tanks in Poland. All 14 Polish tanks of this type, which Warsaw was to hand over to Kyiv, are already in Ukraine.