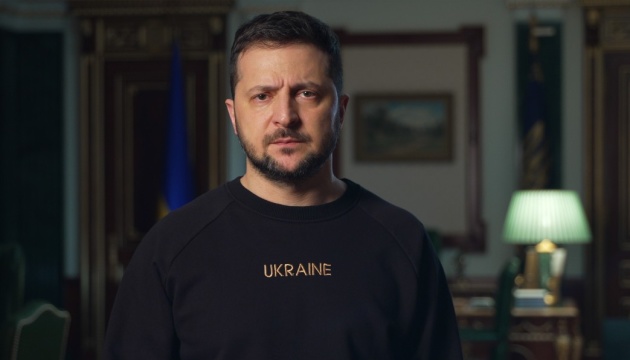 President calls operation in Bakhmut direction one of most efficient for destroying enemy
Bakhmut direction yields one of the greatest results in the fight against the occupiers during the entire battle for Donbas.
"The occupier kills for the very fact that we are Ukrainians. For the mere word about Ukraine. For our dream of Ukraine. For our lives – the lives of Ukrainians. And we are destroying the occupier everywhere – wherever it yields results for Ukraine. Bakhmut has yielded and is yielding one of the greatest results during this war, during the entire battle for Donbas. And I thank every soldier who is fighting in this most difficult area. Who is fighting for all parts of our country, in all directions," President of Ukraine Volodymyr Zelensky said in his latest address.
Zelensky noted that the issue of further defense of Bakhmut became the main issue at today's Staff meeting, and the discussion of further actions in Bakhmut direction lasted for more than an hour. According to the President, the Staff unanimously supported the continuation of the defense of the city.
"Today at the Staff meeting, I directly asked both Khortytsia commander, General Syrskyi, and Commander-in-Chief Zaluzhny about their view of the further defense operation in the Bakhmut sector. Either withdrawal or continuation of defense and reinforcement of the city. Both generals replied: do not withdraw and reinforce. And this opinion was unanimously backed by the Staff. There were no other opinions," the Head of State said.
As noted, the President told the Commander-in-Chief to find the appropriate forces to help the service members in Bakhmut.
"There is no part of Ukraine about which one can say that it can be abandoned. There is no Ukrainian trench in which the resilience and heroism of our warriors would be disregarded," Zelensky stressed.
As reported, according to Serhiy Cherevaty, Spokesman for the Eastern Group of the Armed Forces of Ukraine, the Ukrainian forces in Bakhmut have not gone anywhere – they stay in the city and hold the defense.