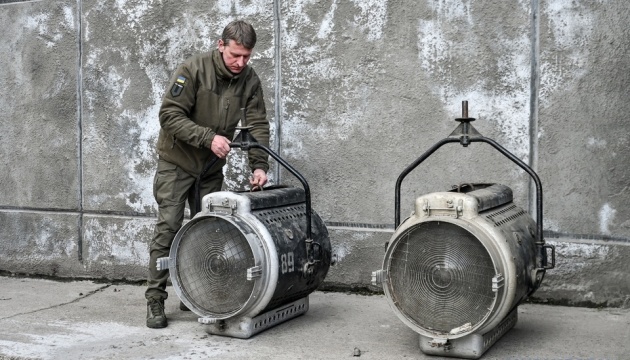 Powerful floodlights to detect Shahed drones delivered to Zaporizhzhia
Zaporizhzhia-based National Guardsmen accepted for service three floodlights which are set to spot enemy air targets, including Iranian-made Shahed kamikaze drones for their successful downing.
The equipment was donated by the Bucha Volunteer Formation, an Ukrinform correspondent reports.
"These floodlights allow for illuminating the sky up to 1.5 km in the dark, as well as to make a light spot up to 300 meters wide. This will allow for detecting hostile air targets on a 1.5-km approach to critical infrastructure facilities," said Colonel Andriy Verlatyi, chief of the formation.
According to the officer, the equipment was delivered to Zaporizhzhia to help local forces improve air defenses.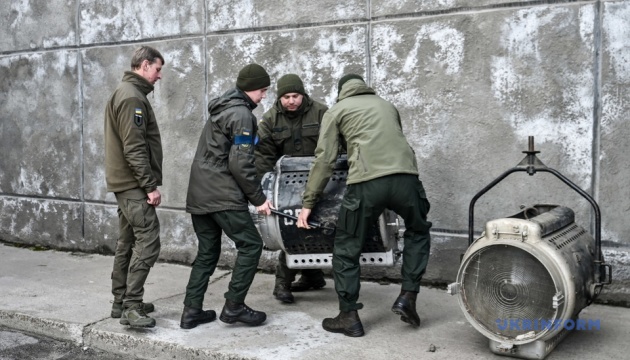 Photo: Dmytro Smolienko, Ukrinform
Thanks to these floodlights, Specops Forces, the Army, and Territorial Defense Forces effectively shoot down up to 90% of the targets spotted. They can keep the target locked until it is downed.
"This allows for deploying air defense groups and other capabilities able to destroy air targets up to 1.5 km from the infrastructure site. These floodlights are used to protect the sky over Kyiv region (Bucha district).
Deputy Commander of the National Guard's 23rd Separate Brigade, Lieutenant Colonel Andriy Poltava, added that as soon as the forces receive the alert that air targets are on approach, Ukrainian troops will take the relevant positions and effectively engage those targets, including in the night hours.
As reported by Ukrinform, Russian troops on Saturday, March 4, struck the village of Mariivka, Zaporizhzhia region, damaging a number of residential buildings.