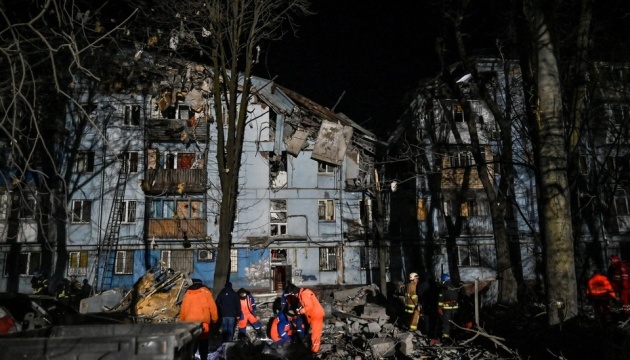 Russia's missile attack on Zaporizhzhia: 2 killed, 6 taken to hospital
Over 10 apartments have been destroyed in Russia's overnight missile strike on a residential building in the city of Zaporizhzhia. Two civilians were killed and six more taken to hospital.
The relevant statement was made by the Main Department of the National Police of Ukraine in the Zaporizhzhia region on Telegram, an Ukrinform correspondent reports.
"Today, at 01:32 a.m., the Russian military launched another attack (according to the preliminary data, with the S-300 air defense missile system) on the regional center. One missile hit an apartment block. Civilians, who had been peacefully sleeping in their homes, were trapped under the rubble. Currently, two victims were found dead, and six people were taken to hospital," the report states.
Following the missile strike, floor 2 to floor 5 in the 5-storey apartment block were destroyed. The neighboring houses were damaged by a blast wave and the debris.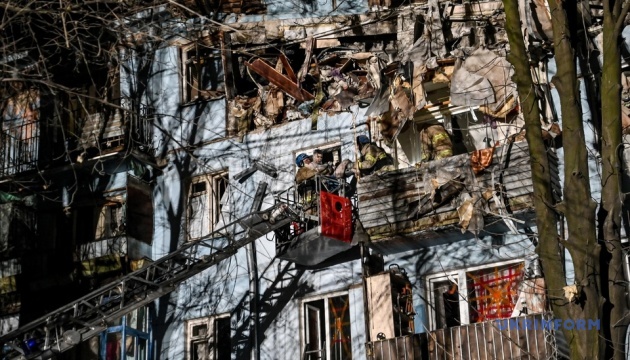 Rescuers, volunteers and relevant professionals are working at the scene. The police and the Security Service of Ukraine are documenting the consequences of Russia's war crime and collecting material evidence.
The Ukrainian State Emergency Service has rescued 11 people so far (a pregnant woman among them) and evacuated 20 residents from the neighboring section of the building.