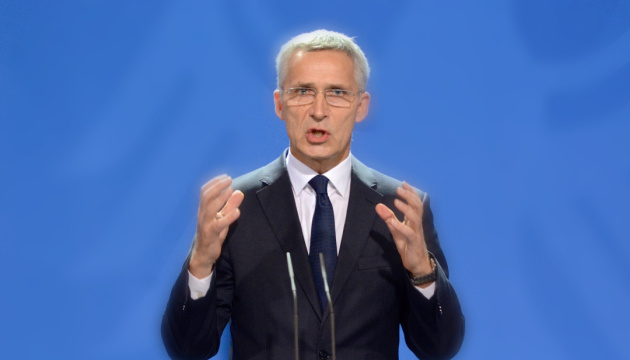 Stoltenberg: NATO to assist in weapons procurement system development upon Ukraine's request
At the Ukraine-EU-NATO tripartite meeting, the parties agreed to assist in the development of an effective, transparent, and accountable weapons procurement system for Ukraine.
NATO Secretary General Jens Stoltenberg and Minister of Foreign Affairs of Ukraine Dmytro Kuleba made a corresponding statement at a joint press point with High Representative of the EU for Foreign Affairs and Security Policy Josep Borrell, an Ukrinform correspondent reports.
"This has become a grinding war of attrition, a battle of logistics. And key capabilities must reach Ukraine before Russia can seize the momentum. So Foreign Minister Kuleba, High Representative Borrell and I discussed the need to ramp up production. And improve our procurement systems. To continue supporting Ukraine. Upon Ukraine's request, we have agreed that NATO should assist Ukraine to develop a procurement system that is effective, transparent, and accountable," Stoltenberg announced.
As noted, the parties agreed to convene a meeting of NATO, EU, and Ukrainian procurement experts to see what more can be done to ensure Ukraine has the weapons it needs.
Kuleba, for his part, noted that the parties agreed to work intensively to solve three issues: to train as efficiently as possible, to produce weapons and shells as efficiently as possible, and to supply them to the battlefield as efficiently as possible.
"The time has come for diplomats and senior officials to have access to the details of production and procurement in order to build the most efficient mechanism," the Ukrainian foreign minister announced. He emphasized that a contact mechanism will be launched at the working level to address the issues of the production of weapons and projectiles and to establish cooperation between manufacturer, contractor, and beneficiary.
Kuleba фдіщ noted that he raised the issue of pilot training.
As reported, the Minister of Foreign Affairs is in Brussels to participate in the first tripartite Ukraine-EU-NATO meeting to coordinate efforts on weapons, training, and increasing the defense industry workload.