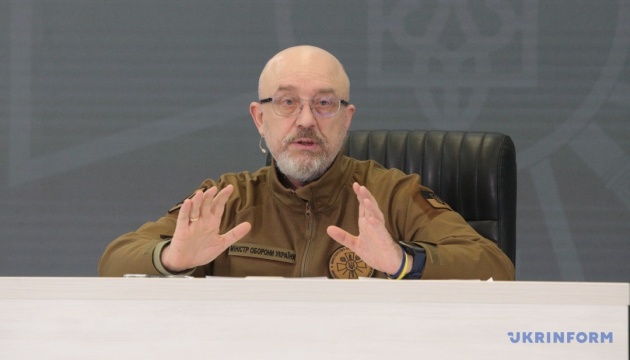 Reznikov: Anti-Kremlin coalition already consists of 54 countries
The anti-Kremlin coalition already consists of 54 countries, and Ukraine's international partners are very determined on Ukraine's victory.
Ukrainian Defense Minister Oleksii Reznikov said this in an interview with FREEDOM TV channel, Ukrinform reports.
"The fact is that the anti-Kremlin coalition already consists of 54 countries. There were so many delegations during a meeting on the sidelines of 'Ramstein' at first, and since it was held in Brussels, in addition to the meeting in the 'Ramstein' format, there was also a meeting of NATO defense ministers. It was also a big meeting. Ukraine was invited as a guest of honor. And we continued our work," he said.
According to the minister, the partners are determined on the victory of Ukraine and want to be co-authors of the victory. However, in order to win, Ukraine needs Western weapons.
"If someone believes that there is a syndrome of fatigue associated with Ukraine and the war, then it is not so. Our partners are very, very, I emphasize, very determined. Determined on our victory. This is a completely different mood than it was a year ago, when we were given three days for the capital to fall, and three weeks at most for the whole country to fall... Today, everyone believes in the victory of Ukraine, everyone wants this victory. Now everyone understands and sees very clearly that it is very realistic to restrain and defeat this Russian so-called 'second army of the world'. We proved it to the whole world, and that is why the whole world is inspired by the heroism of our defenders, civilians, all Ukrainians. And they want to be co-authors of our victory," Reznikov said.
The defense minister also assured that no political issues, including negotiations with Russia, were discussed during the Ramstein meetings.